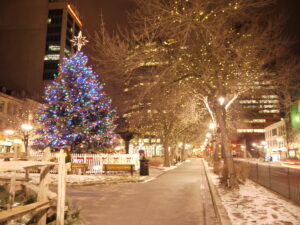 Christmas in Gore Park will be happening December 3 – 5th.  This great annual event is a combined effort of The City of Hamilton, CHML/Y108 and the Downtown Hamilton BIA
"24 in Gore" Marathon" helps launch holiday festivities in Gore Park on Thurs. Dec. 3. The Y108 team, led by host Ben McVie, will broadcast live from Gore Park for 24 hours starting at 6 p.m. to help bring greater awareness to the Christmas Tree of Hope and the Operation Santa Claus Toy Drive.  Please deliver your cash donations, unwrapped new toys and non-perishable food items during event hours for all Christmas events in Gore Park from Dec. 3 through Dec. 5. 
The Christmas Tree of Hope Lighting and Concert takes over Gore Park for an evening of holiday magic on Fri. Dec. 4, starting at 5 p.m. The City of Hamilton, in partnership with the CHML/Y108 Christmas Tree of Hope and the Downtown Hamilton BIA, will help light up Gore Park with food trucks, hot chocolate, a free concert by local band Ascot Royals, train and carousel rides for children, and a chance to place letters to Santa in a 'direct to the North Pole' mailbox, all in support of the Operation Santa Claus Toy Drive. The official lighting takes place at 6 p.m.
We invite you to continue the holiday cheer on Sat. Dec. 5 from 11 a.m. to 3 p.m., for our annual Christmas in Gore Park. This afternoon features free miniature train and carousel rides, refreshments, Christmas crafts, and good old fashioned caroling. Have your picture taken with Santa Claus and bring your letters to send to the North Pole through Santa's mailbox.
Shaw Direct and 1UP Games will have a video game challenge and for every nonperishable food donation to the Shaw Direct Van on Dec 5th you will be entered twice in a raffle for a Food Network Canada Grand Prize.
The free children's amusement rides will continue in Gore Park on Mondays, Wednesdays, Thursdays and Fridays from 12 p.m. to 7 p.m.; Tuesdays 10 a.m. to 7 p.m. and Saturdays and Sundays from 10 a.m. to 6 p.m. until Dec. 24.  On Christmas Eve the rides will run 10 a.m. to 3  p.m.