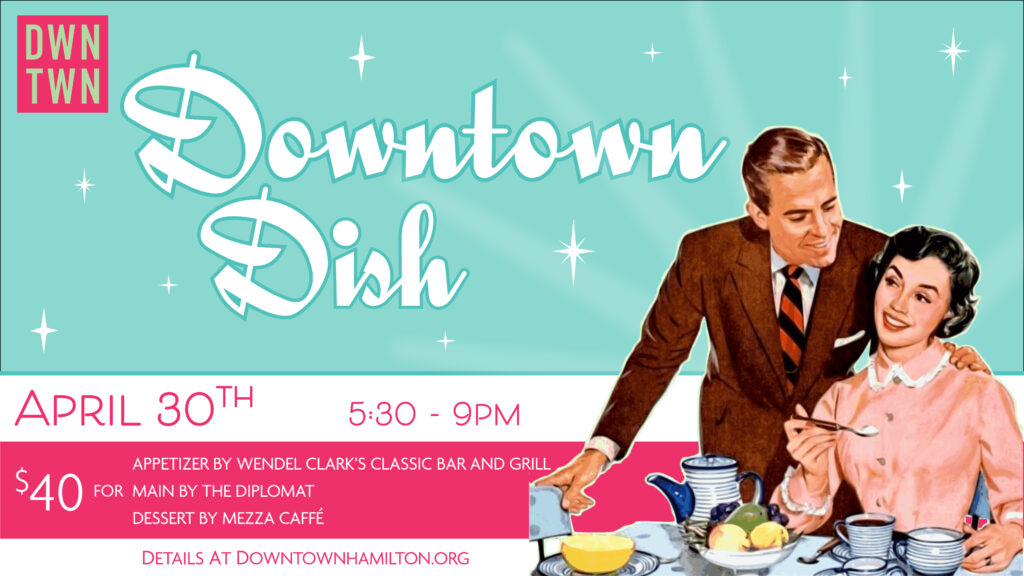 Join us in downtown Hamilton for a special culinary event that will give you the chance to sample several of Hamilton's delicious restaurants – all in one evening!
This traveling dinner will be a night to immerse yourself in downtown Hamilton's past and present. Come back in time for dinner with us and enjoy an appetizer, entrée, and dessert each from a different delicious restaurant, many of which are located in historic Hamilton buildings that have made up the fabric of downtown for decades.
Enjoy live entertainment as well as the chance to view unique vintage Hamilton artifacts & video for a true look back in time at the history of our city.
The schedule for the evening includes:
5:30 to 6:30pm – Meet for appetizers at Wendel Clark's (28 James St. N., Lister Block)
6:30 to 8pm – Entrée by The Diplomat (43 King William St) (Vegan, Vegetarian and Gluten Free options available)
8pm: Delicious assorted pastries & dessert as well as warm beverages to choose from at Mezza Café (28 James St. N., Lister Block)
Tickets are $40 each and do not include alcohol. There is a limited number available so be sure to get yours today!
Get your tickets here.