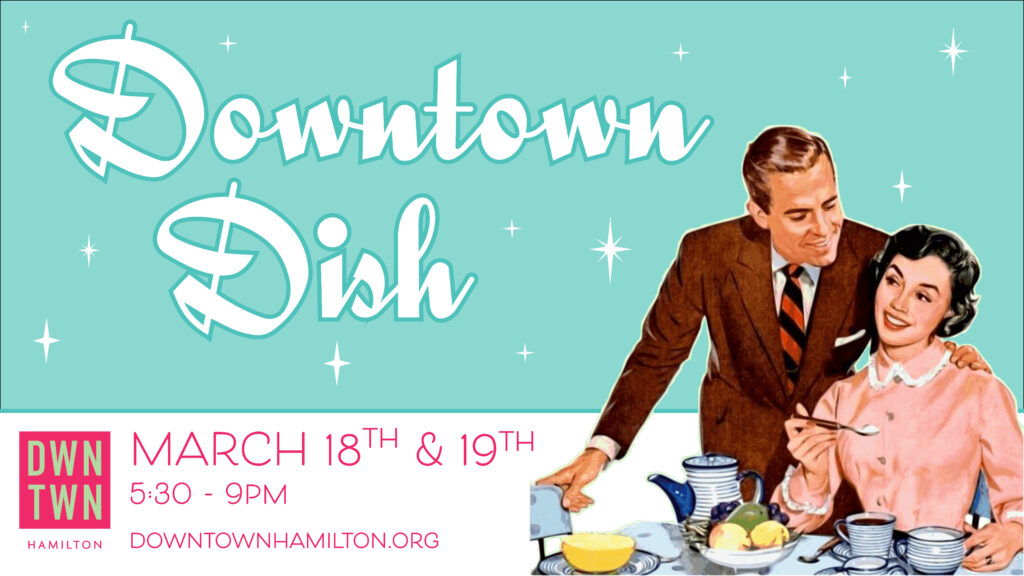 Join us in downtown Hamilton for a special two night culinary event that will give you the chance to sample several of Hamilton's delicious restaurants – all in one evening!
This traveling dinner will be a night to immerse yourself in downtown Hamilton's past and present. Come back in time for dinner with us and enjoy a snack, appetizer, entrée and dessert each from a different delicious restaurant, many of which are located in historic Hamilton building that have made up the fabric of downtown for decades.
Enjoy live entertainment with your meal both nights as well as the chance to view unique vintage Hamilton artifacts & video for a true look back in time at the history of our city.
There are two great nights for you to choose from – Monday, March 18 & Tuesday, March 19. See below for a schedule of each, but be sure to purchase your tickets soon as there are very limited spaces for each night! Tickets are $50 each, drinks sold separately.
Get your tickets here: https://www.bruha.com/event/4462
Monday, March 18 – 6pm to 9pm
5:30 to 6pm: Meeting location (cash bar & snacks) – The Mule
6:45 to 6:45pm: Appetizer by Toast Wine Bar w/vintage Hamilton video footage
7 to 7:45pm: Entrée 33 Bowen w/acoustic entertainment
8pm: Dessert & coffee at Mezza Café
Tuesday, March 19 – 6pm to 9pm
5:30 to 6pm: Meeting location (cash bar & snacks) – Wendel Clark's
6:45 to 6:45pm: Appetizer by The Diplomat
7 to 7:45pm: Entrée by Berkeley North w/acoustic entertainment
8pm: Dessert & coffee at Mezza Café
***Please note that fixed menus are in effect for this event***