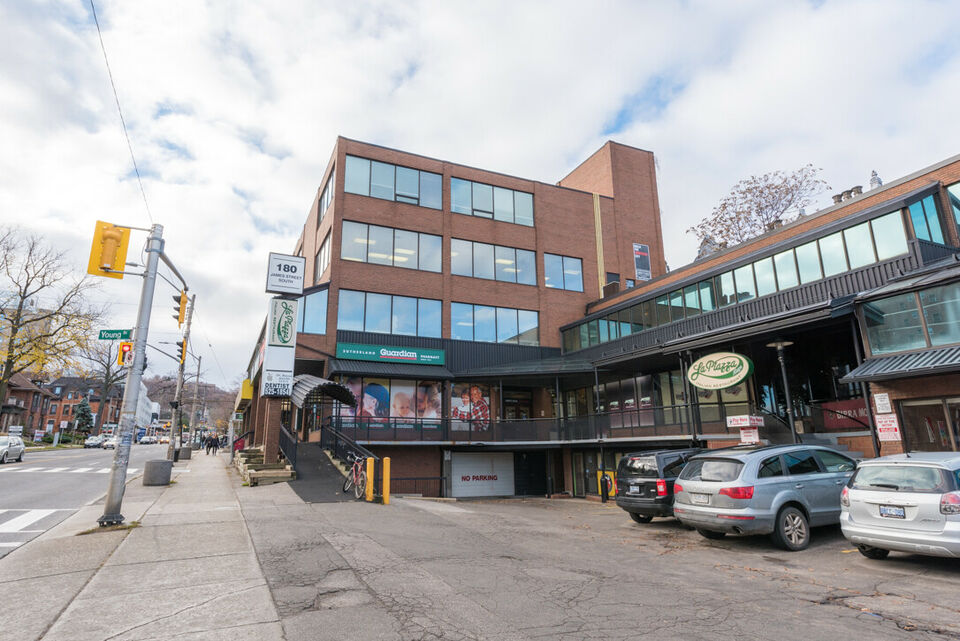 Yoke Group presents 180 James St. South
180 James is home to many Hamilton staples such as La Piazza, Sutherland Pharmacy, Royal Pizza and Big Bee. Its Tower building has many tenants including a Dentists office, Hearing Aid clinic, Accountant, Medical Esthetics and The Populace, a shared office space.
The building is located downtown Hamilton at Duke St. and is steps away from some of the best restaurants in the city like Bronzies, Mezcal and The Mule. City transportation is directly in front of the building and is steps away from Hamilton Go Station.
SUITE FEATURES:
205 , 493sqft
-Private Office
-Large window with view to James St S.
-Hardwood floors
208-B. 431sqft
-Private Office 450sqft
-Exposed ceilings
-Large window facing North on James St. South
-Hardwood floors
PROPERTY FEATURES:
State-of-the-art security cameras, and lighting system
Elevator & FOB system
Public transit at your doorstep
Hamilton-based property management on-site that is proactive, responsive & reliable
Rooftop Patio coming 2020!!
NEIGHBOURHOOD AMENITIES:
Hamiltons best restaurants & bars: Bronzies, Mezcal, The Mule, ODDS, Augusta Street and walking distance to so much more.
WALKING DISTANCES:
Walk Score is 97 and is a very walkable location
Transit Score is 88 and has excellent transit options
LEASING
3-5 year lease is preferred
Rent: $15 per sqft + TMI per sqft + HST
Tenant is responsible for a portion of hydro + gas + water (based on square footage)
Call Yoke Group to book an appointment for 180 James Street South
289-426-5692 or leasing@yokegroup.ca
More information here