Part 5: Art in Downtown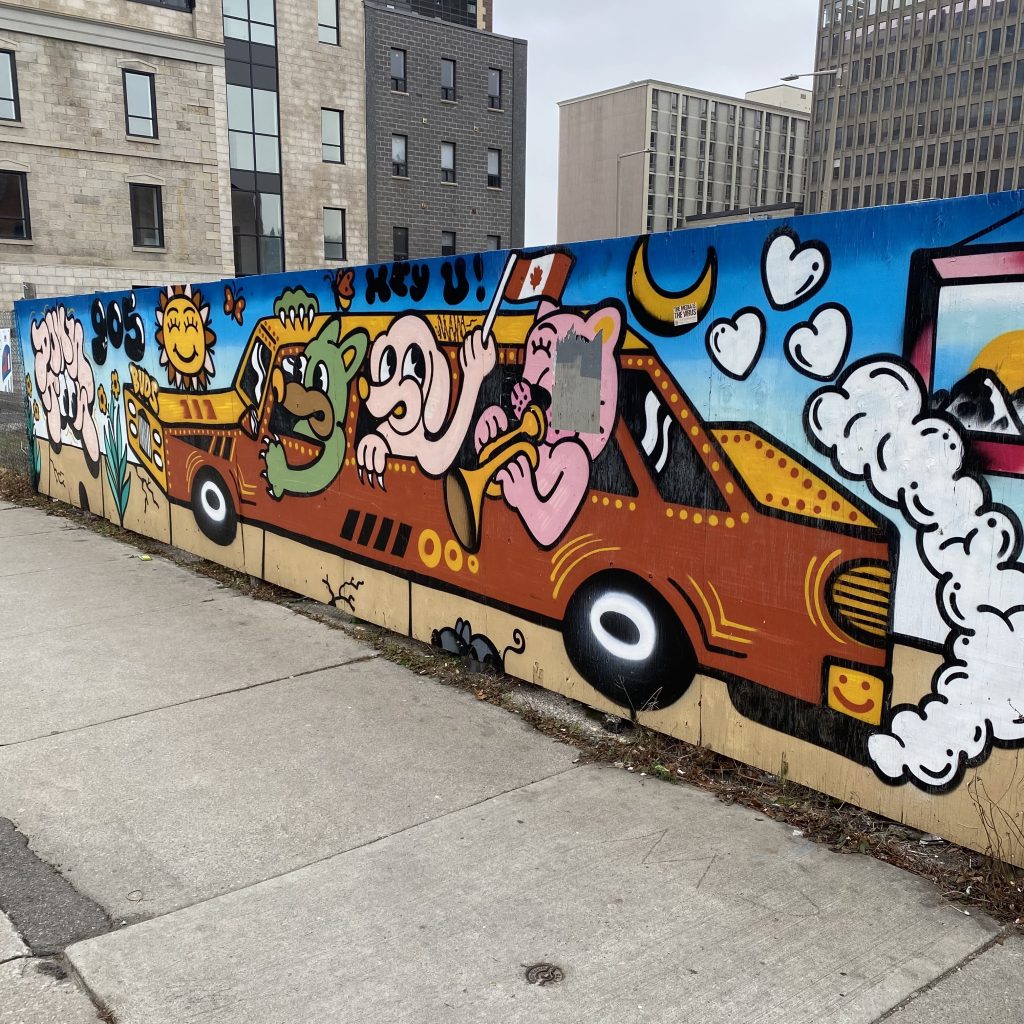 Renowned Cubist painter Pablo Picasso is quoted as saying "The purpose of art is washing the dust of daily life off our souls". This quotation highlights the importance of art and taking a moment to appreciate its value, as it rejuvenates the beauty and vitality in our daily lives. This is made even more important during these dreary and cold winter months, as we can cast aside the winter blues and take a moment for ourselves to appreciate the beauty and talent around us. Thankfully, there are plenty of options within the downtown Hamilton BIA that you can visit if you are interested in art, any of which are sure to leave you feeling joyous and inspired.
One of the incredible places in downtown Hamilton that you can visit to experience some equally incredible art is The Assembly, located at 68 King Street East (within Redchurch Café + Gallery). The Assembly is an artist run co-op that showcases a variety of contemporary art, with a quick and immediate rotation of exhibits that will introduce you to many different new and exciting artists. The gallery space itself is unique and exciting, as you can peruse the exhibits for as long as you like before getting a drink and delicious treat from the attached Redchurch Café. They have a new exhibit opening on March 4 by artist Stephen Altena entitled "Frolic". This exhibit utilizes pattern and decoration, wallpaper and textile samples to create and new and unique landscape for viewers. Both old and new paintings are reconstructed and recycled, while fragments of paintings and colour drawings are suspended by ribbon and twine to evoke feelings of delight. An excerpt from The Assembly's website describes the exhibit by saying "Sentiment and nostalgia, memory and dreams, pleasure and enchantment, decadence and innocence, commingle to blossom into a safe space for your tender feelings". This exhibit will be a great balm for these cold winter days, offering visitors a glimpse into a different world for a short period of time. You can find more information about The Assembly and both their exhibitions through their website here, and then follow them on Facebook and Instagram.
The next place in downtown Hamilton that you should make sure to visit if looking for another form of incredible art is Mills Hardware, located at 95 King Street East. This event and entertainment venue is downtown Hamilton's premier music venue, with a variety of amazing shows each month that are sure to impress. Whether you want to see an already established favourite artist or discover a new one, the incredible lineups and captivating atmosphere will ensure that you have a great time. Their March schedule is absolutely full of incredible artists and bands, and their schedule for next week alone includes Too Many Zooz with Featurette performing on March 6th, Field Guide with Sister Ray on March 8th, and Strawberry Cough with Captain WildChild and Sun Junkies performing on March 9th. You can find more information about Mills Hardware and view their entire March schedule through their website here, and then follow them on Facebook, Instagram, and Twitter.
One place in downtown Hamilton that will allow you to take part in creating art is HamOnt Swing Dance, located at 27 King William Street (enter through RELAY Coffee and head to the back, a white door on the left leads upstairs to the studio). Dancing is its own form of art, and HamOnt Swing Dance will allow you to develop these skills along with others in a fun and supportive environment. Whether you are an experienced dancer or someone that is just starting out, their team of talented and knowledgeable instructors will support you during every step of your dance journey and ensure you have a great time. They offer both weeks-long courses and one-day workshops, giving you options that ensure you can fit dancing into your already busy schedule. You can find more information about HamOnt Swing Dance and stay updated on their next dance opportunities through their website here, and then follow them on Facebook and Instagram.
Finally, one more resource that can help you integrate more art into your everyday lives is the Downtown Hamilton BIA's Self-Guided Public Art Tour. Our website contains a map of public art pieces in the downtown core, ranging from large-scale murals to wrapped hydro boxes. You can use this resource to discover and appreciate art on your own terms, allowing you to both work around your own schedule and give yourself time to appreciate each piece. You can find the Self-Guided Public Art Tour through our website here.
Taking a moment to enjoy art around you, regardless of the form that it takes, is an easy way to bring some more joy and colour into your life. Any of the options listed above will expose you to the artistic talent of others and potentially inspire some in yourself as well!
If you are a Downtown Hamilton BIA member business and would like to be featured in a blog post, please email Emily Gilruth at emily@downtownhamilton.org.