Part 17: The Return of Supercrawl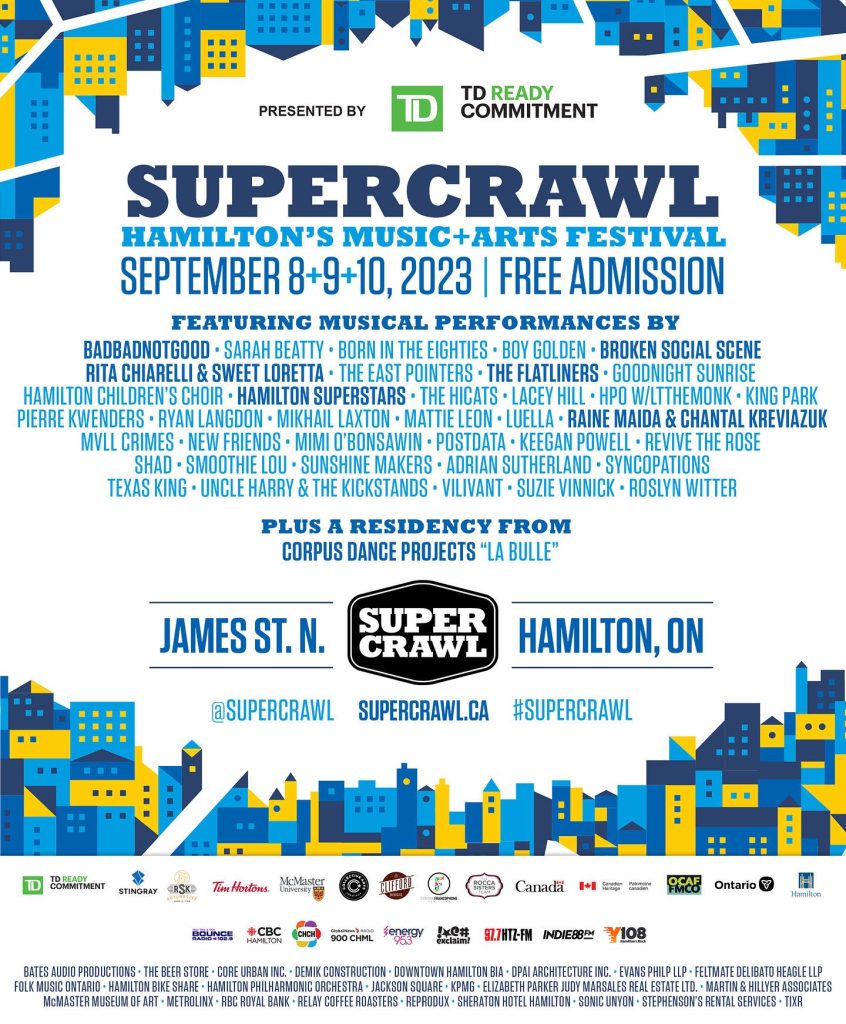 Mark your calendars, one of Hamilton's most iconic events is returning next week!
Supercrawl, Hamilton's premier music and arts festival, returns next Friday, September 8, and runs until Sunday, September 10. This festival has become an iconic staple of Hamilton's art scene for both those who live within the city and outside of it, as it always brings fun, artistic expression, and infectious energy along with it. For many people, the experience of attending a Supercrawl stays with them even after the festival itself has ended for the year, as they find a new favourite musician, artist, or experience that they treasure for years to come. Now in its 15th year, the 2023 Supercrawl is sure to continue that tradition!
The festival was founded in 2009 by a team of artists and community builders based in Hamilton, with a goal of showcasing the artistic and cultural vibrancy of their city through a one-day festival specifically focused on art. As the years progressed the length and scope of the festival expanded, until it reached the multi-day celebration of all things art and music that we now know and love. Supercrawl now takes over two kilometers of James Street North each year, bringing hundreds of thousands of people to the area and contributing millions of dollars for the Hamilton economy.
This year's Supercrawl festivities feature over 30 musical performances, with plenty of opportunities to find a new favourite artist or reconnect with an old one. The musical lineup includes artists such as BadBadNotGood, The Flatliners, Hamilton Superstars, Raine & Chantal and more. The festival also includes a residency from Corpus Dance Projects, and both visual and performance art from individuals such as David Brooks, Hamilton Perambulatory Unit, and Stylo Starr. In addition to these performances, there will also be fashion shows, a family and art zone, author talks, vendors and more throughout the three days, so you are sure to find something you love! You can find more information about Supercrawl and the full schedule on their website here, and then follow them on Facebook, Instagram, and Twitter for more updates. Admission to the festival is free, and it is a rain-or-shine event.  Make sure that you check the weather forecast before you step out and bring an umbrella if necessary.
While you are in the downtown core, why don't you stop by one of the incredible businesses in the area? While the festival does have art and food vendors present on-site, taking a minute to explore the amazing businesses in the surrounding areas gives you a place to return to once the festival is over. If you are looking for a quick bite to eat along the Supercrawl route, Earth to Table: Bread Bar James (14 James Street North), TOLAGOS (54 James Street North), True to Roots Jamaican and Caribbean (56 James Street North) and Great Red Peppers (60 James Street North) are all delicious restaurants stationed on James Street North. While not directly on James Street, you can also stop by King William Street if you are looking for something great to eat. The King William Outdoor Dining District will be operational during the festival, which involves restaurants along King William Street closing the street and setting up patios along the roadway. This is the perfect place to escape the hustle but stay connected to the festival, and participating restaurants include Electric Diner (28 James Street North), RELAY Coffee Roasters (27 King William Street), Berkeley North (31 King William Street), Undefined (35 King William Street) and The Mule (41 King William Street). Any of the other restaurants along King William Street, including Mezza Café (28 James Street North), The French (37 King William Street), Conversate Steak & Seafood (38 King William Street), Sagarmatha Curry House (43 King William Street), The Diplomat (43 King William Street), HAMBRGR (49 King William Street) and Mystic Ramen (51 King William Street) would also make a great addition to your Supercrawl festivities. If you are looking to do a bit of shopping, make sure you pop into Dr. Disc (20 Wilson) and LEN: Democratic Purveyors of Fine Art & Beautiful Things (22 Wilson Street) to get some great items to take home.
Supercrawl is a must-attend activity for many in the city, as it is a hub for all things arts, culture, and fun during the three days that it runs. Regardless of whether you are from Hamilton or are visiting the city to specifically attend the festival, you are sure to find something that you enjoy. Take a trip down to Supercrawl and explore some of the amazing artistic talent that this city has to offer!
If you are a Downtown Hamilton BIA business member and would like to be featured in a blog post, please email Emily Gilruth at operations@downtownhamilton.org.