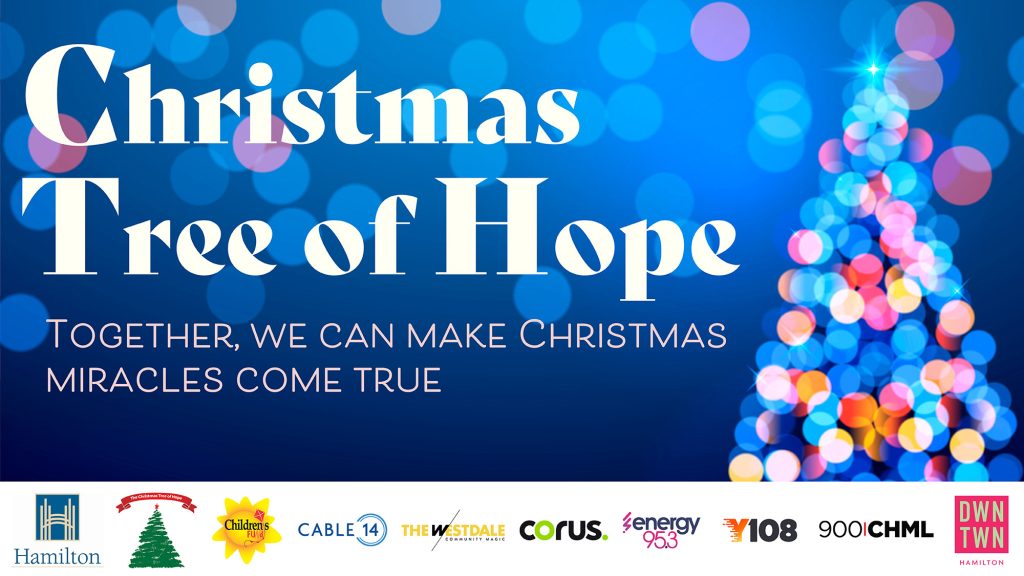 As we approach the end of the year and the weather gets colder, our minds instinctively turn to festive holiday traditions. One of downtown Hamilton's most popular holiday traditions is the annual lighting of the Christmas Tree of Hope. Join us on Friday, December 2nd, from 5 pm – 7 pm, to witness the transformation of Gore Park as it lights up to mark the start of the holiday season.
Visitors can enjoy a festive musical performance from local crooner Vili V, visit with Santa, and snack on delicious maple taffy, before taking a spin on the exhilarating umbrella ride. In addition, Gore Park will be completely decorated for Christmas, creating a winter wonderland that will jump-start your Christmas spirit.
The annual Children's Fund Christmas Tree of Hope was founded in 1976 to bring hope to children and families struggling through the holiday season and has been providing valuable festive joy ever since. For those interested in donating to the 900 CHML/Y108/Energy 95.3 Children's Fund, there are plenty of easy and accessible ways to do so. You can text DONATE to 30333 to make a $10 or $20 contribution, or you can donate by phone by calling 905-521-2310. You can also donate in person at the CHML Studio (875 Main Street West) or online at 900chml.com via PayPal or CanadaHelps.org. As a part of Operation Santa Claus Toy Truck, donations of new and unwrapped toys can be dropped off at the Downtown Hamilton BIA office (20 Hughson Street South, Suite 104) Monday to Friday, 9 am – 4 pm from November 14th to December 18th.
For those that cannot attend in person, the tree lighting will also be airing live on Cable 14 from 6 pm to 6:30 pm. It will also be live-streamed on the Facebook pages of Y108 Rocks!, CHML and The Westdale, ensuring that anyone who is not able to make it still has an opportunity to enjoy the festivities.
The fun doesn't stop there! The umbrella amusement ride will continue in Gore Park from December 2nd to December 11th, 12 pm – 8 pm daily. A great pitstop while Christmas shopping or enjoying a meal with friends, and it's completely free! (Please note: there is a height restriction of 42″ or 3.5 feet).
We wish to thank all of our partners – Corus Entertainment, the City of Hamilton, Cable 14 and The Westdale – for their continued support in making this event possible and a success every year.
**
You can now watch the complete broadcast of the Christmas Tree of Hope by clicking here!