Part 18
Shopping Your Downtown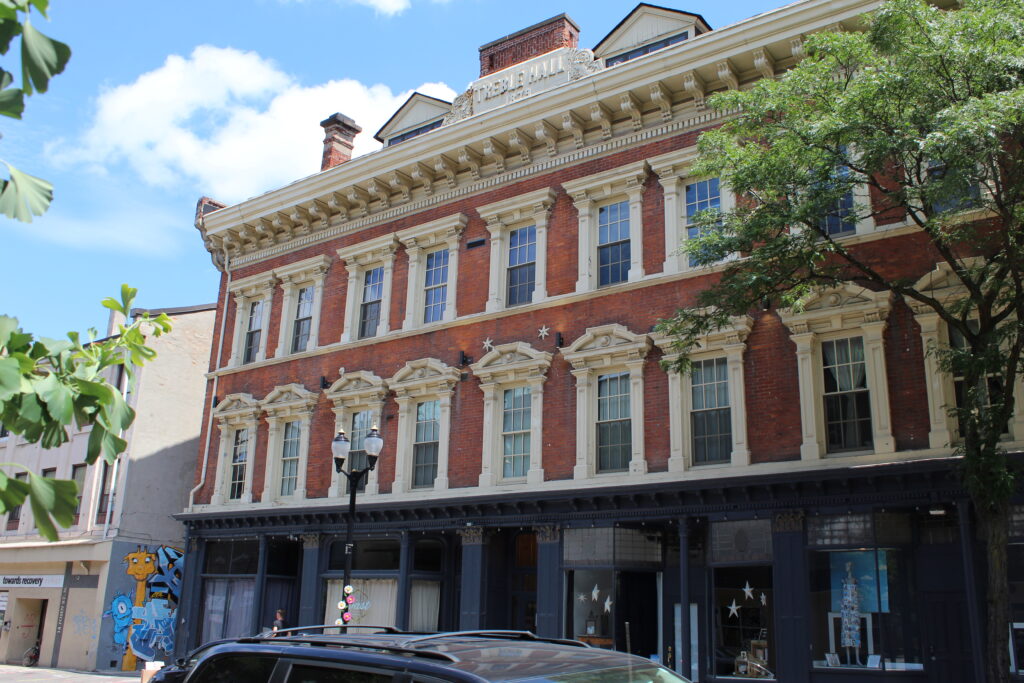 It has been a long and slow-going process dealing with COVID-19 restrictions. Supporting local retail shops has been a bit of an escape for those of us have been able to while also helping businesses stay afloat. With restrictions hopefully on track to loosen even further as vaccination rates steadily increase, these unique shops continue to do their best to be available to their customers.
The Downtown Hamilton BIA is a bit different from other BIA's in that professional services make up a large percentage of our businesses, however, the retails shops we do have are unique, destination shops that have become staples downtown. A great example is Dr. Disc on Wilson St., which has been a destination for music lovers for 30 years. Dr. Disc has adapted their business through every step of the pandemic – from being closed early on, to organizing curbside pickup, and to now safely managing in-store shopping once again. In fact, Dr.Disc reopened for in-store shopping on June 12, which also happened to be Record Store Day, to the best sales day in their entire history. This kind of overwhelming support from customers has been so appreciated and so vital to so many businesses.
In addition to records, just next door to Dr. Disc on Wilson St. you will find LEN Democratic, a perfectly curated shop with fun pop culture gifts for any and all occasions – even if that occasion is just wanting a personal pick me up. LEN was able to create unique ways keep in touch with customers throughout the entire roller coaster of COVID restrictions, from ramping up the ability to shop online, offering delivery and even offering video call shopping to help customers pick out exactly what they would like. LEN is so excited to once again have their doors open for in person shopping, stop by and see all of their fun options.
A few streets over on John St you will find a new boutique, Mablellie's Drawer. Now officially open at 17 John Street North, Mablellie's is your new go to for all things sleepwear, lingerie and swimwear. Their aim is to provide a place for women of all shapes and sizes from all walks of life to feel comfortable, beautiful and welcome. Opening a business amid COVID-19 is no small feat and Mablellie's is excited to be part of the downtown community. Shopping online is available here and they are also happy to welcome in-person shopping. Just next door at 19 John St. N. you will find your local bike shop, Downtown Bike Hounds, open for repairs and shopping (ring the bell upon arrival for curbside service). Flat tires and emergency repairs are accommodated asap while tune-ups and other repairs require an appointment. Across the street, at 6 John St. S. is your destination for all things mystical and magical, The Witch's Fix. While they are not yet open to in-person shopping, they continue to offer online shopping and curbside orders.
Moving down John St you will find Atelier Vsaint Orologi at 91 John St. S., a custom watchmaker that also offers repairs, cleanings and battery replacements. Email owner Vincent here for any questions or get in touch at 905 541 3477. Just a few stores over is another unique retail shop, The Local Skate Shop at 101 John St. S. Local offers a wide variety of skateboard and snowboard products and accessories, footwear, and clothing as well as custom apparel. The shop is open for in-person visits and online shopping.
When thinking of long-standing, destination retail in downtown Hamilton, Leather's at 157 King St. E. has been a hub for all leather apparel and accessories for over 40 years. Also on King St. you will find Wintas Computers and Cellphone Repairs at 119 King St. E. for help with all your electronic needs. Cellphone repairs are also available from Global Tech at 6 James St. N.
While there may be several professional services in our downtown Hamilton area, we are certainly also home to a number of unique, destination shops that are ingrained within our community. They have come up with innovative solutions to remain relevant to their customers throughout the never-ending changes in restrictions and remain dedicated to their brick and mortar locations despite these challenges. You can find a directory of these shops here. We welcome you to come in and browse your favourite shop when you are ready or continue to support them in whatever way you can.  
If you are a Downtown Hamilton BIA member business and would like to share your experiences during COVID-19 please email Suzi Ozer at suzi@downtownhamilton.org.