Part 24
Getting Around Downtown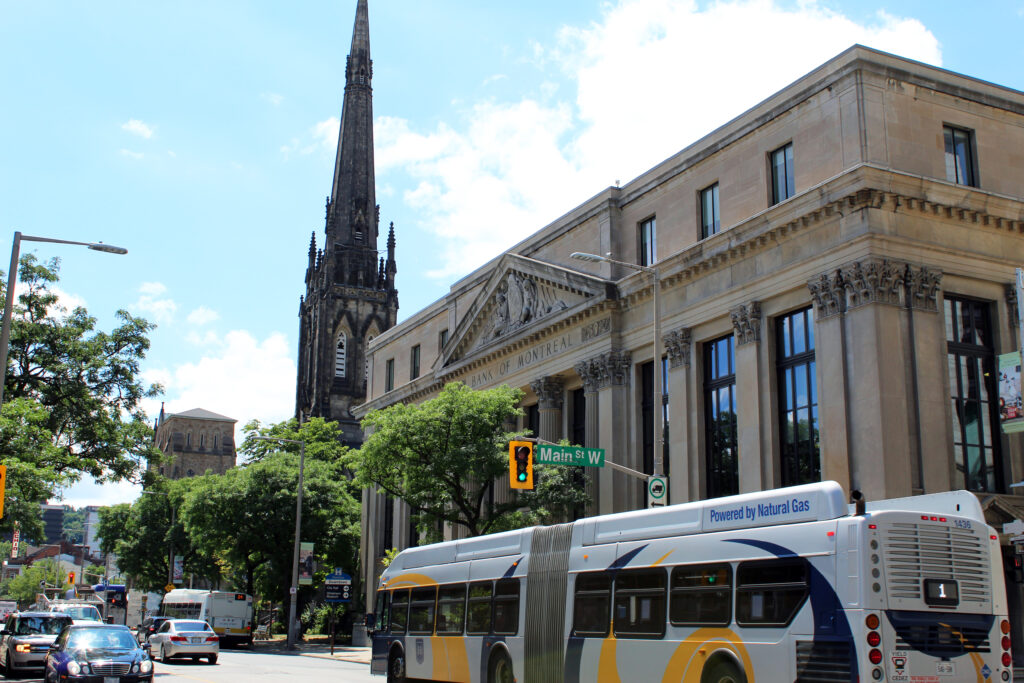 With the change of seasons and the start of a new school year, it has been great to see more and more people in downtown Hamilton. We are also seeing the return of employees to offices, whether it be full-time or on new hybrid schedules. As we welcome more people downtown here are some helpful tidbits on how to enjoy the area.
If you commute downtown by car, you can find our parking map online here that outlines all lots available in and around the Downtown Hamilton BIA. You can click on each location to pull up the address as well as pricing. For on-street parking, all meters in the City of Hamilton are $2 per hour and operate Monday, Tuesday, Wednesday and Saturday from 8 am – 6 pm, and Thursday and Friday from 9 am – 9 pm. Some meters in the downtown core are exempt from paying after 6 pm and/or free on Saturdays, you can check the meter itself for operational hours. Pre-COVID-19, parking downtown was increasingly in demand as more people live and work in the core. With this in mind, The City of Hamilton began a parking study and has released their Parking Master Plan here. The recommended approach suggests parking rate increases of around four per cent a year, which would bring hourly on-street parking rates to about $3 by 2030 with the cost of monthly permits also increasing. Increasing parking rates are inevitable in all municipalities, and commuting by car is the only option for many who come from surrounding cities without reliable public transportation options. But if you are able to take advantage of alternate forms of transit, why not consider your options when exploring downtown?
Hamilton Bike Share makes a fantastic option for Hamilton residents or anyone visiting downtown and looking for a convenient and quick way to get around. Pick up any bike from any hub and return it to any other hub. Bikes can become part of a multi-modal commute – combine with walking, busing or even Go Train/Bus services (GO Transit has begun all-day, hourly train service from West Harbour GO station – this is the first time that GO trains have been going in and out of Hamilton all day). For non-residents, hourly plan lets you ride where and when you need to with no long-term commitment. Learn more about Hamilton Bike Share and explore their low-cost plans here. In addition to biking, as of this week city councilors voted to endorse a memorandum of agreement with Metrolinx, meaning work can finally restart on the planned 14-kilometre light rail line between McMaster University and Eastgate Square. With plans for LRT once again in motion for Hamilton and work starting as early as next spring, this will be a great option for commuting quickly and easily.
As you do reacquaint yourself with downtown, whether for work or play, remember that our on-street patios are able to remain open into October on weather permitting days allowing you to enjoy your favourite restaurants by dining in, having a meal on the patio, or by grabbing take out to bring home. See a full list of restaurants in our area with patios available here. Enjoying a meal out is not all you can do downtown, the Art Gallery of Hamilton is open for in-person visitors Thursday 11 am – 8 pm and Friday 11 am – 6 pm as well as weekends. Hamilton Philharmonic Orchestra has also announced the return of in-person events. From September through December, fall concerts will feature live audiences with some concerts available to view via livestream and on-demand viewing. A Free Community Concert in the FirstOntario Concert Hall will be available September 25th at 2pm. Pre-registration is required, learn more online here.
If you are a Downtown Hamilton BIA member business and would like to share your experiences during COVID-19 please email Suzi Ozer at suzi@downtownhamilton.org