Part 26
New Restaurants on James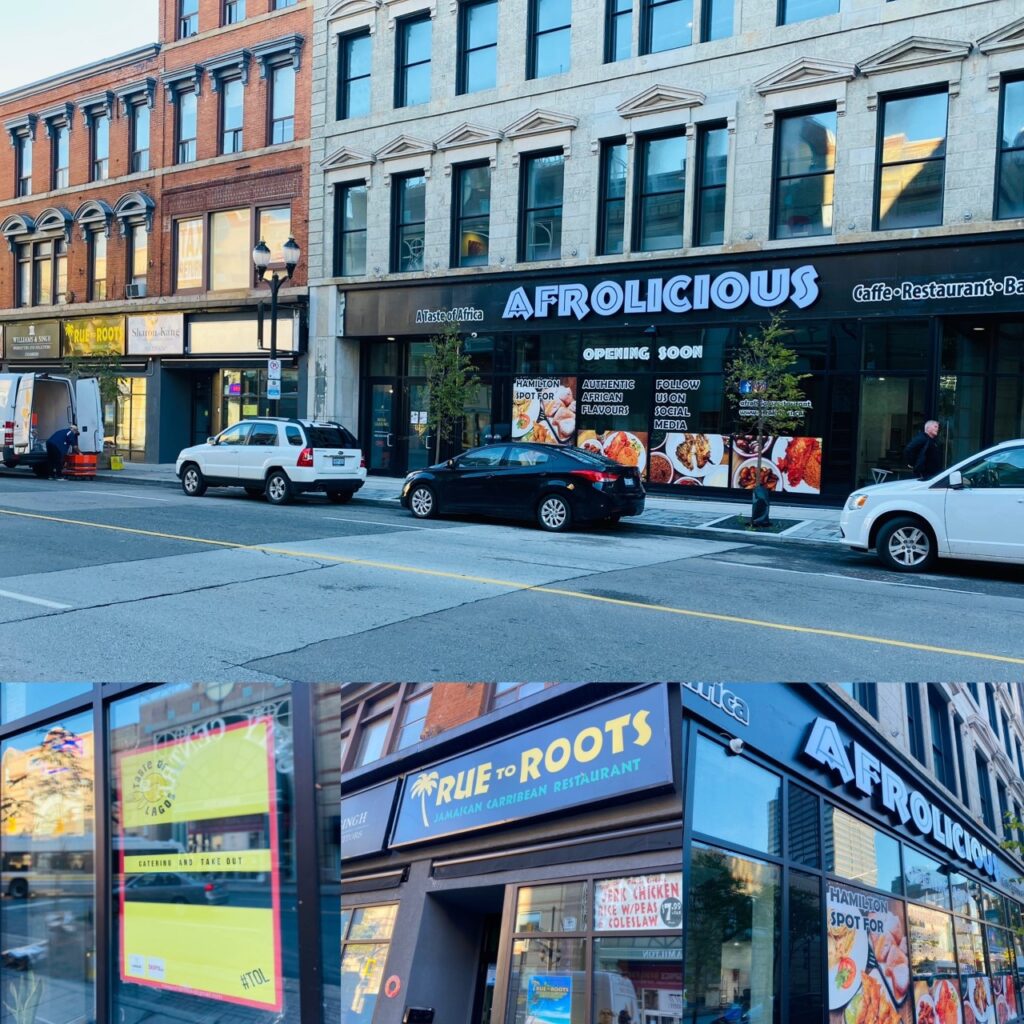 This far along into living with COVID-19 we all know how hard restrictions have landed on the shoulders of small businesses, restaurants and venues perhaps the most heavily. We have seen around the world the extreme strain on businesses, but a surprising outcome of the pandemic has been the steady increase of new ones getting started even amidst the turmoil and uncertainty.
On James Street North between King William St. and Rebecca St. you will find three new restaurants, all of which have opened in recent months or are soon to be open. Taking the leap to start a new small business can be tough in the best of times, but to do so after witnessing the hurdles of COVID-19 measures reveals a true dedication to their businesses and a confidence in the importance of downtown. True To Roots Jamaican and Caribbean restaurant can be found at 56 James St. North. While the restaurant was previously located in the Hamilton City Centre, having a storefront location not only increases visibility but is that much easier for customers and delivery drivers to access. Traditional dishes including oxtail, curry goat, and jerk chicken are all available on the menu. See their full menu on Uber Eats here.
A door over you will find Taste of Lagos at 54 James St. North. This Nigeran restaurant began operating out of Jackson square just before COVID-19 lockdown first happened in 2020. Owners Victoria Adefala and Funmise A. Oladeji opened the restaurant in response to finding no restaurants in the city that represented their culture. Even though their business got started in the heart of COVID-19 restrictions, their delicious dishes took off and they have now moved to their own storefront location open for take-out and delivery. Inspired by Lagos, Nigeria's largest city, dishes include jollof (Nigerian rice) and chicken or goat, suya chicken or steak, and much more. Whether you're looking to feed yourself or a crowd Taste of Lagos has options for you, check out their menu and order ahead on their website here. You will also find them on DoorDash, SkiptheDishes, and Uber Eats.
One more door over at 46 James St. N. you will find the soon to be open Afrolicious restaurant. You will be able to enjoy Afro-Canadian street food in an African styled restaurant setup or order online and get it delivered to your doorstep. Bringing you traditional authentic African Food, Afrolicious is family-owned and operated with over 20 years of food service experience and a life-long passion for great food. Catering will also be available and Afrolicious' knowledgeable staff are happy to help guide you through your event. Visit them online here and stay tuned for an official opening date on their Instagram here to check out their beautiful space.
Three new restaurants within one block, all of which represent a unique culture's cuisine and bring something new to Hamilton's food scene, is so encouraging to see given the challenges so many small businesses have faced over the last few years. We hope you will take the opportunity to try out one of these delicious new spots and that you take the time to rediscover all the new things happening downtown as restrictions continue to lift.
If you are a Downtown Hamilton BIA member business and would like to share your experiences during COVID-19 please email Suzi Ozer at suzi@downtownhamilton.org