Part 14
In and Around Downtown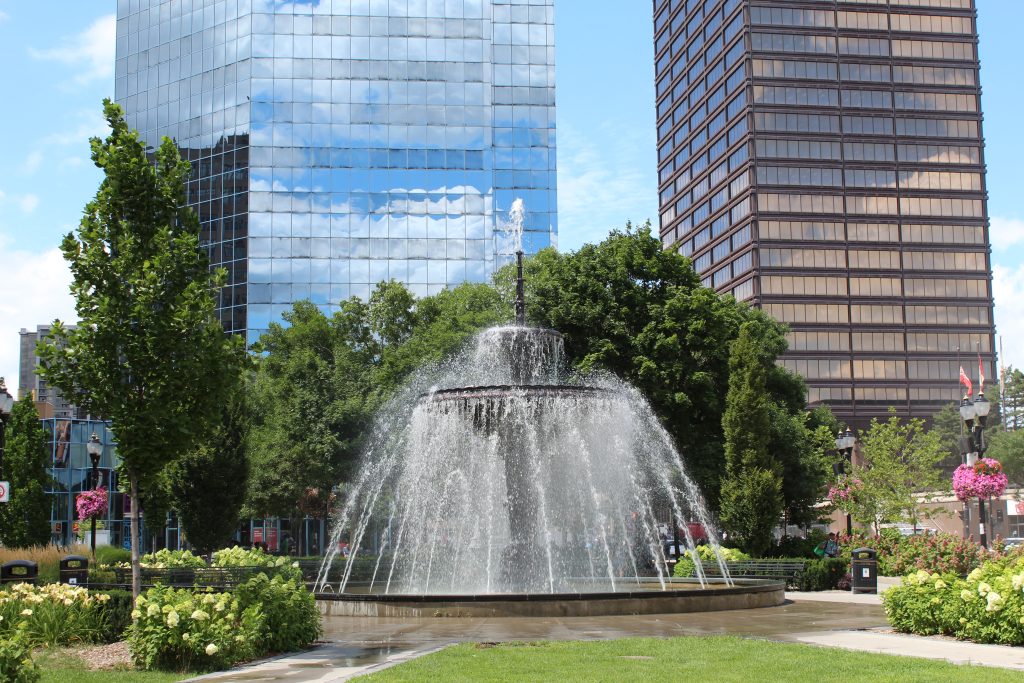 Summer seems to breeze by so quickly each year, most likely because there always seems to be something going on and something to do. Downtown Hamilton is no exception, and whether your destination is downtown or it's part of your plan on your way to another destination, there is a lot to look forward to in Hamilton.
The Concrete Canvas Art Festival is on this weekend across Hamilton until Sunday, July 24. This multi-day visual arts festival brings together local and internationally acclaimed artists in Hamilton over one weekend to paint murals live in an effort to elevate the visual landscape of the city while simultaneously inspiring a new generation of artists. This initiative is in full collaboration and support with the City of Hamilton. In a similar format to a free music festival, such as Art Basel (Miami), NuitBlanche (Toronto) or Under Pressure (Montreal), Concrete Canvas is a one-of-a-kind self-guided event series that brings the Hamilton community together to celebrate art, music, culture, and diversity.
Visitors can enjoy live mural painting daily during daylight hours on the tour path across the city with acclaimed local and international artists including Heiro, Burnto Tost, Bacon, Monk.E, Sugarbones, Peru143, Water, Clear Eye Collective, Kyle Joedicke, and many more. This year's festival will also feature a three-day celebration in Hamilton's Woodland Park packed with live mural-making, dance, and DJs from July 22-24. To view a map of mural locations, visit their website here. Another fun outdoor event on from July 21 to 24 at Bayfront Park is Dusk Dances Hamilton presented by HCA Dance Theatre.
Dusk Dances is an outdoor dance festival that brings arts to the City of Hamilton, offering a unique experience and spectacular atmosphere. As dusk descends, a theatrical host leads the audience through an array of unique world-class dance pieces that unfold in different areas of the park. At 6:45pm dance workshop and live music begins and at 7:30pm dance performances begin. Pay-what-you-can with a suggested contribution of $10/person, bring your own chairs and blankets. For more details please visit their website here.
At Tim Hortons Field on Saturday, July 23 take in a soccer match and support Hamilton's Forge FC as they take on Winnipeg's Valour FC. Did you know our Hamilton team are two-time Canadian Premier League (CPL) champions? The CPL is Canada's Tier 1 professional men's soccer league that debuted in 2019. Find Forge's full schedule here. With the game starting at 4:30pm there's time to grab a bite on a downtown Hamilton patio before heading over or to grab a drink afterward. Speaking of events that make it easy to explore downtown, Hamilton Fringe Festival is now underway until July 31. This annual action-packed theatre, dance, and music performance festival will feature more than 350 performances this year. The Fringe Club will transform the area outside Theatre Aquarius into a bustling festival hub boasting a fully equipped outdoor stage, a licensed patio, panel discussions, pop-up performances, food, crafts, and much more from July 20 – 31, 2022. Also on at Theatre Aquarius from July 27 – August 12 is Old Stock: A Refugee Love Story. This Klezmer-folk music-theatre hybrid starring Hamilton's own genre-bending sensation Ben Caplan is inspired by the true stories of two Jewish Romanian refugees coming to Canada in 1908. The show is a humourously dark folktale woven together with a high-energy concert about how to love after being broken by the horrors of war. To learn more or purchase tickets please click here.
Another major event in the lower city coming up this month is Festival of Friends. This long-running festival returns to Gage Park for three full days of music, arts, food, and more July 29 – July 31. This year's star-packed lineup includes performances by Monster Truck, Gord Bamford, The Snotty Noe Rez Kids, Serena Ryder, George Canyon, and more. This free music festival is a decades-long Hamilton tradition, first launched back in 1976. View the full lineup online here.
With so much going on across the city this month it makes it easy to incorporate lots of different areas in your adventures. Make the most of these warmer months an reacquaint yourself with Hamilton and all it was to offer.
If you are a Downtown Hamilton BIA member business and would like to be featured in a blog post, please email Suzi Ozer at suzi@downtownhamilton.org