Part 15
Supercrawl 2022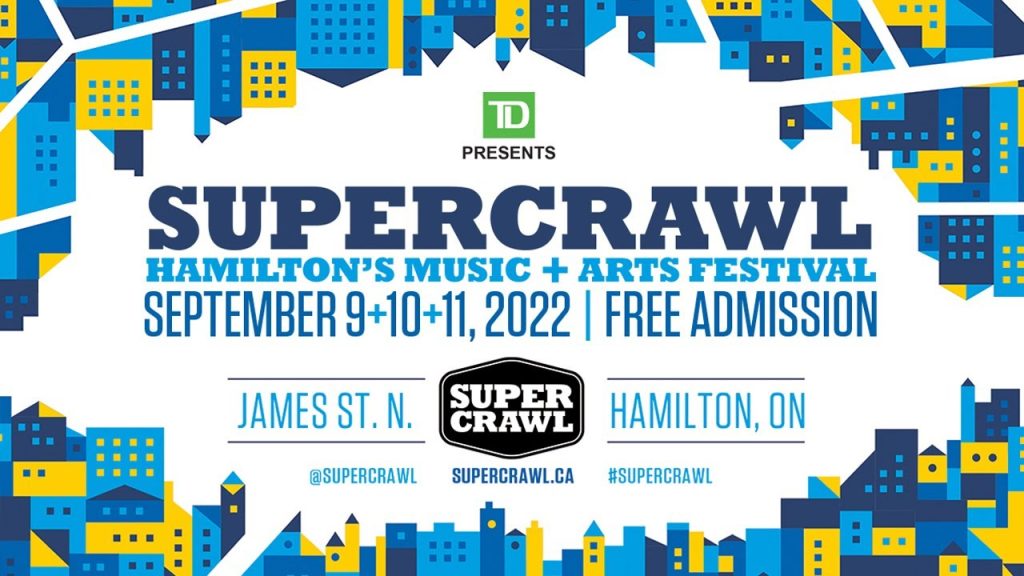 One of Hamilton's most beloved staples, Supercrawl, is back! After a three-year hiatus due to the pandemic, the multi-disciplinary music and arts festival returns in September, promising to once again showcase the vitality, fun, and artistic expression that has come to be expected from this iconic piece of Hamilton artistic culture. Supercrawl is not only an important opportunity to help cultivate a relationship between Hamilton locals and visitors, but the variety of art showcased throughout the three days ensures that everyone will find something, whether it be a new band or piece of art, that they love and remember for years to come.
This year the festival runs from Friday, September 9 to Sunday, September 11, spanning two kilometers of James Street North in the heart of downtown Hamilton. Admission is free. The festival takes place rain or shine, so it is advised that you double-check the weather and bring a raincoat or umbrella if needed.
Supercrawl has developed and changed drastically since its inception in 2009. Originally founded by a group of local artists and community members, the festival was a one-day event designed to showcase and highlight Hamilton's vibrant artistic talents, community, and culture. Interest in the festival has grown exponentially since then, gaining international attention and praise. Supercrawl now runs for three days instead of one, and the city of Hamilton can expect hundreds of thousands of visitors to walk down James Street North to enjoy the unique art installations, vendors, and musicians.
Supercrawl's 2022 lineup features more than 40 musical acts, as well as a variety of artists, installations, vendors, buskers, musicians, and more! More information about Supercrawl, including a full festival line up, FAQ and the history of the festival, can be found on their website here, and you can follow them on Facebook, Instagram and Twitter for more updates.
Being downtown to experience Supercrawl and all it has to offer can be made even better by visiting one of the many delicious restaurants in the area. While the festival does have food vendors present onsite, being near James Street North is an incredible opportunity to find a new favourite restaurant that you can return to once the festival is over. There is nothing better to compliment a great night of music and artistic performance than something delicious to eat, and downton Hamilton has you covered! While not directly on the main stretch of James Street North where the Supercrawl is stationed, very close by is the King William Street Outdoor Dining District, where a variety of restaurants and cafes have closed down the street to street to set up outdoor dining, meaning this is a perfect place to escape the hustle and bustle of the festival if needed. Along this stretch there are a variety of both restaurants and cafes, such as HAMBRGR (49 King William St), The Mule (41 King William St), RELAY Coffee Roasters (27 King William St) and That's My Jam Sandwiches (51 King William St). On James Street North itself there are also plenty of good options if you want to sit down and relax while dining in, such as Earth to Table: The Bread Bar James (14 James St N), Ray's Food and Liquor (10 James St N), TOLAGOS (54 James St N), Afrolicious (46 James St N) and Great Red Peppers (60 James St N). If you want to stretch your legs and explore the area a little bit more, John Street is close by and also has incredible options for you to try, such as Industria Pizzeria+Bar (69 John St S), Capri Family Restaurant (25 John St N) and Saigon House Restaurant (27 John St S).
Supercrawl is an incredibly important event in the city that helps highlight the artistic talent of locals and those coming into the city to take part in the festival. Those that attend are sure to find something that they enjoy, and can feel good about the fact that they are supporting the local artistic community.
If you are a Downtown Hamilton BIA member business and would like to be featured in a blog post,
please email Suzi Ozer at suzi@downtownhamilton.org