Blog 10: The Return of the Summer Promenade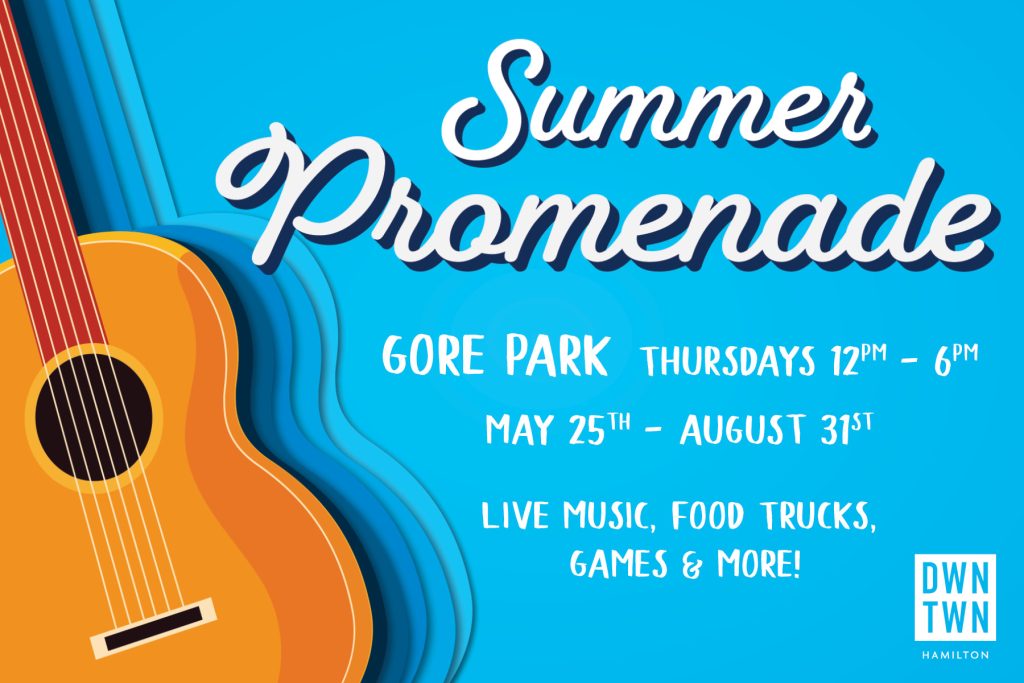 The Gore Park Summer Promenade is returning for 2023, and we couldn't be happier!
The Summer Promenade is an outdoor music festival that the Downtown Hamilton BIA runs annually in Gore Park during the summer months. Earlier this year we conducted multiple meetings and brainstorming sessions, and eventually decided to change the structure of the Summer Promenade in an effort to make it a more condensed and exciting event for everyone. This year it will run every Thursday from 12 to 6 pm, beginning on May 25 and running until August 31. There will be two bands playing each Thursday, meaning that you will have 30 different opportunities to find a new favourite band! The first band will take the stage from 12 to 2 pm, there will then be a fun event in the park from 2 to 4 pm, and the final band will play from 4 to 6 pm.
While you listen to the music of the amazing and talented musicians, there will be other fun attractions to enjoy in Gore Park. Weather permitting, there will be food trucks in attendance every Thursday, with a variety of cuisines and menu items for you to try. There will also be seating set up in Gore Park so you can sit and enjoy your meals, and life-size games including jenga, connect 4, and chess for visitors to play.
Additionally, we are very lucky to have a variety of talented vendors attend the Summer Promenade throughout the summer, ranging from talented local artisans to community non-profits. They will be setting up tables or booths to either sell their products or share information about their organization, exposing visitors to some of the businesses that make Hamilton so great! If interested, there is still time to sign up to be a vendor at the Summer Promenade. If you are a business, organization or artist (both within the Downtown Hamilton BIA boundary and outside of it) that would like to attend the Summer Promenade as a vendor, please email Emily Gilruth, Operations Manager, at operations@downtownhamilton.org or fill out a Vendor Application here. We do have requirements from vendors if they wish to participate, and we can then work together to find a date that works well for everyone's schedule.
The Gore Park Summer Promenade would not be possible without the help of local business Dr. Disc (20 Wilson Street). In 2019 we hired a professional sound technician from Dr. Disc to be on-site each day to ensure the quality of sound, and this great partnership has given us the opportunity to bring quality live music to downtown Hamilton again. Additionally, many of the artists that we hire for the Summer Promenade are also members of the Hamilton Musician's Guild, Local 293, AFM/CFM. We thank both of these organizations for the dedicated work they do in helping us bring quality live music to those in downtown Hamilton.
The Summer Promenade is designed to be a fun and inviting place for all in the heart of downtown Hamilton, while also highlighting some of the local bands and businesses that make Hamilton so great. We invite everyone to come down to Gore Park and enjoy the music, vendors, food trucks, warm weather and great vibes! While you are down in Gore Park, we encourage you to spend some time exploring the rest of downtown Hamilton, as the Summer Promenade is only one of the great events happening in the area during the summer.
For up to date information about the Summer Promenade, make sure to continually check our website and follow us on Facebook, Instagram and Twitter, as this is where we will be posting updates about the event and sharing who will be in attendance every week. The Summer Promenade is a rain-or-shine event apart from severe weather, and the BIA will notify people of any necessary cancellations as soon as possible through our social media channels. You can find the lineup for the Summer Promenade here, and more information about vendors and food trucks will be shared soon. We can't wait to see you in Gore Park during the Summer Promenade and what we hope will be a busy and successful summer!
If you are a Downtown Hamilton BIA member business and would like to be featured in a blog post, please email Emily Gilruth at emily@downtownhamilton.org.