Part 11: The Return of Outdoor Patios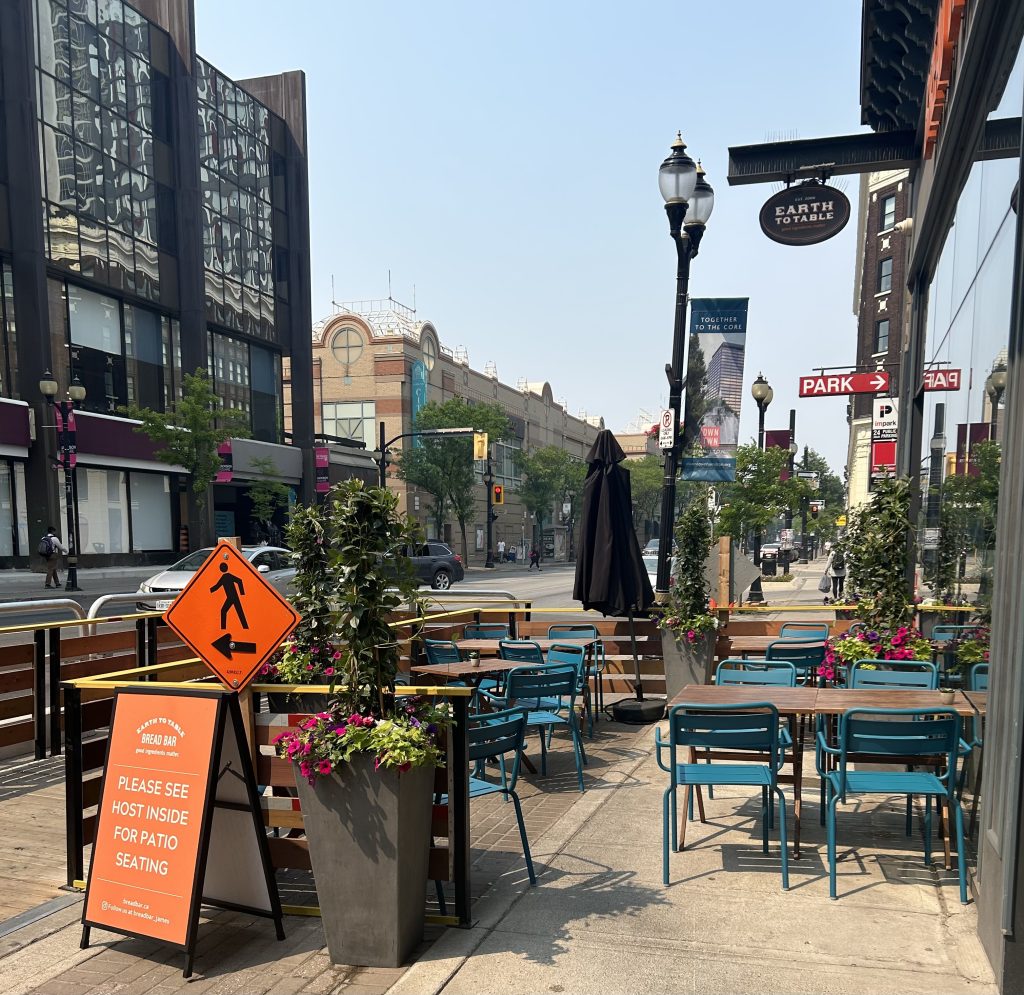 For many people, the arrival of summer is synonymous with the arrival of outdoor patios, and thankfully they have returned for 2023! Outdoor patios provide you with the perfect opportunity to enjoy some delicious food and drinks from your favourite restaurant while simultaneously soaking in the warm summer weather. Thankfully there are plenty of restaurants in the downtown core that have set up their patios again this year, sure to be the perfect addition to a great day out in the downtown core during the summer months.
After the success of previous years, King William Street will once again be closed between James Street and Hughson Street South to allow the restaurants along this street to set up patios on the roadway. This dining district will be running from Tuesday to Sunday each week until October 31. It will run from 3 pm to midnight Tuesday to Friday, and then from 8 am to midnight on Saturdays and Sundays. Participating restaurants include Electric Diner (28 James Street North), RELAY Coffee Roasters (27 King William Street), Berkeley North (31 King William Street), Undefined (35 King William Street) and The Mule (41 King William Street). There is flexibility in when these restaurants choose to set up and not every restaurant is guaranteed to be set up each day, so make sure you visit regularly!
In addition to the dining district on King William, there are plenty of other amazing restaurants and cafes in the downtown core that are setting up patios during the summer. Here they are:
Redchurch Café + Gallery (68 King Street East): This café serves specialty coffee, food, Prosecco, wine, and craft beer. Make sure to grab one of their delicious drinks and a snack before heading out to their patio to enjoy the sights and sounds of Gore Park.
The French (37 King William Street): This restaurant is a modern take on a French bistro, with a variety of fine-dining dishes that you are sure to enjoy. Their patio is the perfect place to enjoy a drink and the company of those closest to you.
Earth to Table Bread Bar (14 James Street North): This delicious restaurant has extensive lunch, dinner and dessert menus, all sure to impress. Bring some of your friends or family down and take advantage of this patio to enjoy the warm weather and high-quality food.
Bad and Boujee (93 John Street South): While you may be familiar with this nightclub, they have a new and exciting patio, The Freaky Tiki Patio! Here you will be able to enjoy Tiki-inspired food and cocktails in a fun and inviting atmosphere.
HAMBRGR (49 King William Street): As the name suggests this restaurant focuses primarily on burgers, but you are sure to enjoy anything on the menu. They are the perfect lunch or dinner option, especially if you try their new signature CHEFSMASH burger, made with pepper jack cheese, crispy mac & cheese fritters, bacon jam and more.
Mystic Ramen (51 King William Street): This restaurant serves delicious small-batch craft ramen, and you are sure to enjoy anything you choose from their menu. They have a patio menu coming later in June, so this is the perfect opportunity to take advantage of their patio and pay them a visit soon.
Conversate Steak & Seafood (38 King William Street): This fine-dining restaurant recently introduced a new and beautiful patio, sure to impress for any meeting or important meal. The combination of delicious food and beautiful weather is sure to make for a memorable night out.
The Diplomat (43 King William Street): This restaurant has a menu with multiple global inspirations, including street food and markets. Grab anything from their menu that includes appetizers, salads and mains before sitting down in their patio space for a great dinner with your loved ones.
Outdoor dining on a patio has understandably become a staple for many during the summer months, and it gives you the perfect opportunity to spend more time in the downtown core. There are benefits to everyone involved, as these outdoor patios give restaurants the opportunity for more seating while giving customers the opportunity to enjoy their meals outside in the beautiful weather. There are plenty of incredible patios in downtown Hamilton that you can visit, and grabbing a delicious bite to eat at an outdoor patio is sure to make your next visit to the downtown core even better! Make sure to check the social media profiles of any of the above restaurants for updates on their patios, as hours will vary by restaurant and they could be weather dependent.
If you are a Downtown Hamilton BIA business member and would like to be featured in a blog post, please email Emily Gilruth at operations@downtownhamilton.org