Part 12: City of Hamilton Summer Concert Series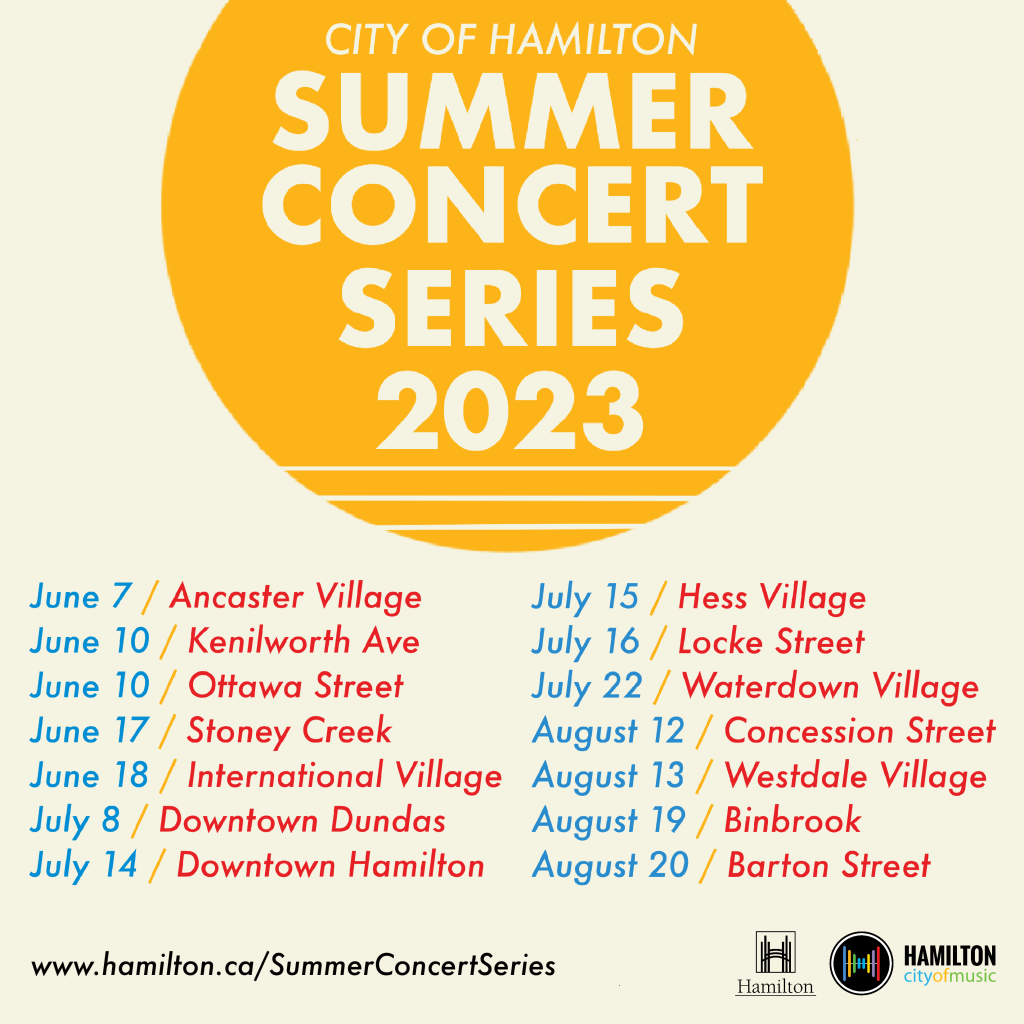 Calling all music lovers!
The City of Hamilton's Summer Concert Series has officially returned for 2023! These concerts are an amazing opportunity to enjoy the summer weather, listen to some great music, and explore some more of Hamilton all at the same time. The schedule for this year's concert series includes a variety of talented artists performing at locations throughout the city, and it is sure to be the perfect summer activity!
Each concert is free to attend, and there will be two performances at each concert. The lineup features a variety of incredibly talented local musicians, and the genres featured will range from indie-alternative to jazz. The concerts are rain or shine, so make sure you check the weather before you arrive and bring an umbrella if needed. You will also need to bring your own chair if you want one. The concerts officially began on June 7, and here is the schedule for the rest of this summer's lineup:
Downtown Dundas: July 8, Memorial Square
Downtown Hamilton: July 14, James Street North at Wilson Street
Hess Village: July 15, Gown & Gavel's side patio
Locke Street: July 16, Herkimer Street and Locke Street South
Waterdown Village: July 22, Memorial Hall (Behind Memorial Hall)
Concession Street: August 12, 593 Concession Street
Westdale Village: August 13, Paisley Avenue and King Street West
Binbrook: August 19, Binbrook Parkette
As noted above, the Summer Concert Series will be visiting the Downtown Hamilton BIA on July 14, and will be taking place on James Street North and Wilson Street. This July 14 date will coincide with Art Crawl for the month of July, so this concert is sure to be the perfect addition to an already fun and great night out! The BIA is very lucky to have two incredibly talented artists, Duckai and spookyguava, performing at the concert in the downtown core. Duckai is a multi-talented artist who recently released his debut album, an 8-track concept album entitled "Future Vision". A four-piece band, in addition to Duckai's thought-provoking lyrics and expressive vocal performances, is sure to leave you feeling impressed. Duckai's set will begin at 7 pm, and then spookyguava will begin playing at 8 pm. spookyguava is an indie-hiphop artist who combines the hooks of modern indie rock with the beats of hiphop to create a unique and deeply personal sound. He released his new album "Death Valley" earlier this year, and his focus on creating music that speaks from the soul without any boundaries means that everyone will be able to easily connect with his music.
The City of Hamilton's Summer Concert Series is a great addition to your schedule for the summer, and it allows you to explore some more of the incredible musical talent that this city has to offer. The variety of dates happening at locations all throughout the city makes it easier to accommodate these shows with your pre-existing schedule, and these shows provide you with the perfect opportunity to explore more parts of the city than you are normally able. Before watching the concerts, you should make an effort to grab a bite to eat from a restaurant and explore some of the surrounding stores in each new location, making it a complete and fun day out! You can find more details about the City of Hamilton's Summer Concert Series and information about each artist here.
If you are a Downtown Hamilton BIA business member and would like to be featured in a blog post, please email Emily Gilruth at operations@downtownhamilton.org.