Part 21: Hamilton Day 2023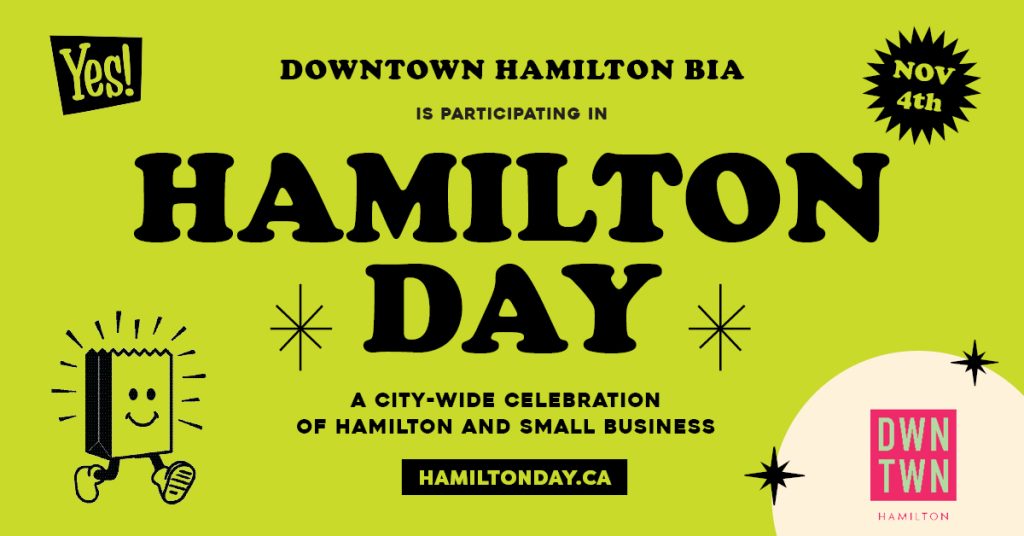 Mark your calendars, Hamilton Day returns from November 2nd to 5th!
We are excited to share that the Downtown Hamilton BIA is a partner in this year's Hamilton Day, which acts as the ultimate celebration of our city and its vibrant small business community! Hamilton Chamber of Commerce first held Hamilton Day in 1931 as a way to boost the economy and morale during the Great Depression. It quickly became the symbol of a rallying spirit in the face of adversity, which made it the perfect initiative to bring back in 2021 during the COVID-19 pandemic as a way to support small businesses in Hamilton. Building on the tremendous momentum and support from the Hamilton community over the past two years, Hamilton Day has now expanded to a weekend of celebration. Hamilton Day weekend will begin on Saturday, November 4, with kick-off activities taking place on the evenings of Thursday, November 2 and Friday, November 3.
To celebrate Hamilton Day, the Downtown Hamilton BIA has hired two talented musicians to perform on November 4, creating the perfect playlist for your Hamilton Day festivities. There will be two different spots within our boundary where you can listen to these sweet tunes, and each artist will visit both locations throughout the day. The first band that will be performing is Dixie Dawgs, a four-piece brass band that will lift your spirits and get you dancing a jig on the street. They will be performing at James and King William Street from 11 a.m. to 12 p.m., before making their way over to King and John Street for a performance from 12 to 1 p.m. The next talented performer is Ginger A. Graham, a seasoned musician who performs country, folk, bluegrass, and Irish music with decades of experience as an inspiring musician and performer. Return to King William and James Street from 2 to 3 p.m. to hear Ginger A. Graham perform, before he moves to King and John Street from 3 to 4 p.m.  These free shows are sure to be a great addition to your Hamilton Day plans, so pop by before moving on to any one of the incredible businesses in the surrounding areas!
There are already some amazing businesses within the Downtown Hamilton BIA boundary that have registered for Hamilton Day and are offering some special deals to celebrate. TOLAGOS (54 James Street North) is offering a $10 lunch special all day, which includes jollof rice, grilled chicken and coleslaw (there is also a vegetarian option). Mystic Ramen (51 King William Street) is hosting a special deal where if you buy a $50 gift certificate, you will get a $5 gift card for use between Jan 1-Feb 28/2024, and they are also dropping new toques to celebrate. Momoco Donuts (2 Catherine Street North) has a deal where if you buy 6 donuts, you will get one free. CoMotion (115 King Street East) is offering free coworking on Nov 3 and hosting two markets in their street level pop-up retail spaces with BLK OWNED & McMaster Alumni on Nov 4. Earth to Table: Bread Bar James (14 James Street North), Undefined (35 King William Street), HAMBRGR (49 King William Street), Redchurch Café + Gallery (68 King Street East), and Sugar Daddies Bakery (120 King Street East) have all registered, so stay tuned on possible deals/offers. You can find a list of participating businesses here, with more being added on a daily basis!
If you are a business that would like to participate in Hamilton Day, please register online here. There is no cost to participate in Hamilton Day and no commitment is required. We encourage you to use the day to engage the community and participate in a way that suits you! All businesses that register will receive:
A feature profile on the Hamilton Day online map
Access to a suite of digital resources to share that you'll be participating
Access to a FREE three-month membership to GetintheLoop (the official partner app of Hamilton Day)
If you are a consumer, Hamilton Day is the perfect opportunity to support the local businesses that make up the heart and soul of this city! There are a lot of special events or offers throughout the city, ensuring that you can find something fun and exciting near you. Make sure to step outside from November 2nd to 5th to support the local business community in Hamilton, and let's continue to spread the local love and make Hamilton Day 2023 the most economically impactful one yet for our catchment!
You can find more information about Hamilton Day and view a full list of participating businesses here. You can also follow them on Facebook, Instagram, and X (formerly Twitter).
If you are a Downtown Hamilton BIA member business and would like to be featured in a blog post, please email Emily Gilruth at operations@downtownhamilton.org.