Part 2 – CoMotion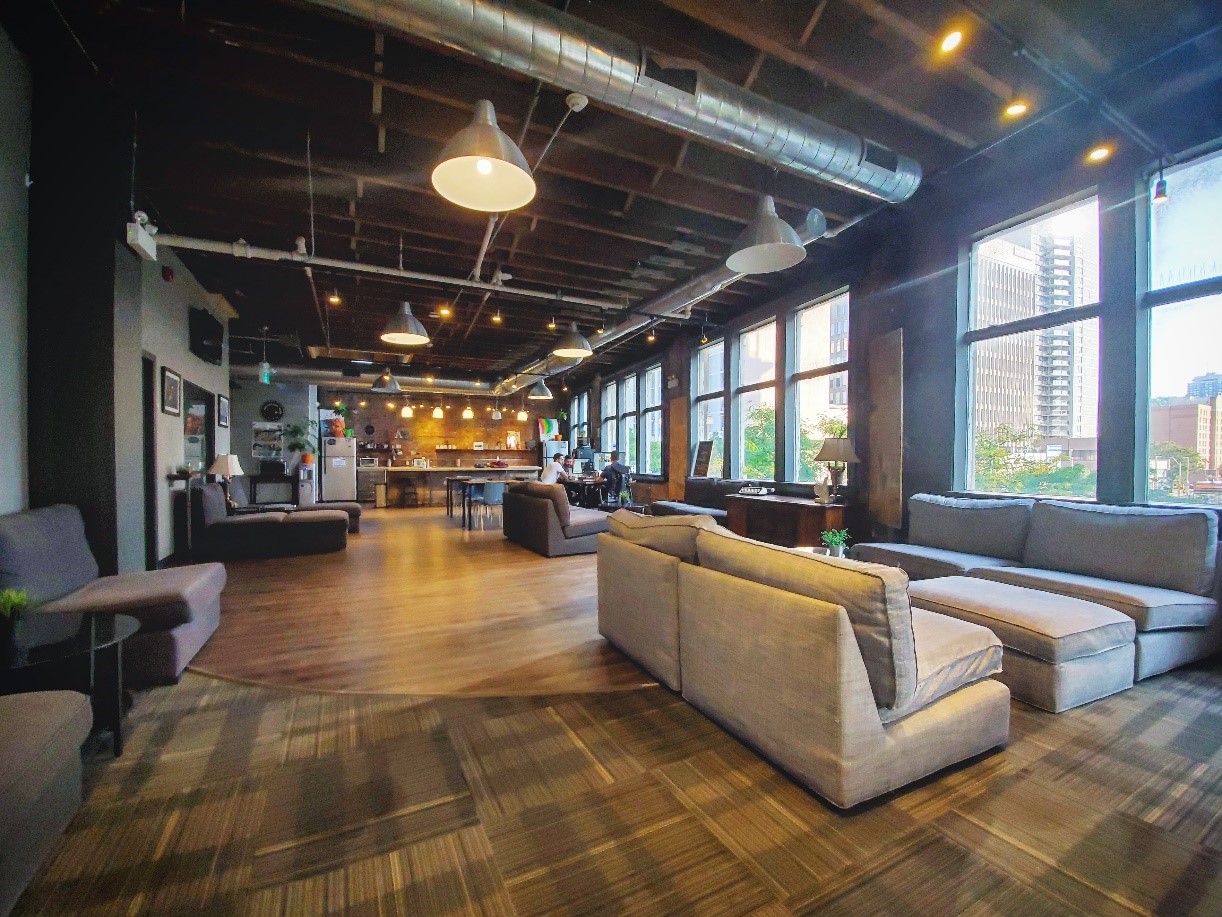 We continue our blog series focusing on downtown businesses and their new COVID realties by hearing from CoMotion on King, now in their fifth year at their 115 King St. E. space. It may be thought that in the midst of so many people working from home, is there really much need for physical offices anymore? The answer is yes – if only to save us from the overlapping Zoom calls, child interruptions, loss of regular 'work' hours and more that have come from sharing workspaces at home – but it might be that we are now in search of more flexible and multifaceted office space opportunities.
CoMotion has certainly seen this trend. When the first wave hit, they did see it impact members, however, they are now seeing a rise in interest as work from home rules make people want to get out of their house and find a personal office to remote work from.
Ryan Moran, Vice President and Partner at CoMotion shared, "As we looked towards celebrating five years in business last January, we never expected that it would be in the midst of a global circumstance such as this. That said, and seeing how the pandemic has impacted so many in our community, our colleagues, friends and fellow small and local businesses, we see even more the role coworking can play in supporting remote working professionals, freelancers, small businesses and more in our community."
Pre-pandemic CoMotion served as a launchpad for the next generation of Canadian businesses, and a regional leader in the provision of collaborative workspaces, renowned for spaces, amenities, unique clientele, and business development support programs. COVID regulations and efforts to keep members safe have of course affected how the shared space works. Similar to a gym, co-working businesses are space based, so additional challenges to address the shared space revolved around safety but also reassuring members. CoMotion has instituted four main safety measures including consistent cleaning of surfaces and having supplies readily available for members, requiring members to wear masks as they move through the space, directional pathways to move through the space and a conditional opening with the office remaining open for members, their clients, and new member tours, but otherwise closed to the immediate public without appointment.
With the constantly shifting regulations and changing times, CoMotion is offering new opportunities to members to make things a bit easier. New members can explore their multiple fifth anniversary offers – one month free, 5 months for $500 per month, and a $35 start up space for those most impacted by the pandemic circumstances. Click here to explore these offers in more detail. In addition to these offers, CoMotion is also in the process of devolving their co-working space to offer even more options for members.
Development of creative space and equipment for Content Studio (for content and product photography and video development), a Podcast Studio, and a special Creator's Pass that can be bought into for members of the community who may not need full membership but are interested in use of the equipment are all exciting new additions in the works. They are also creating a special, very-low offer for Not-For-Profits in the community, directly tied to socio-economic or health initiatives, to have access to space in CoMotion.
So, as much times may be changing quickly, business members like CoMotion are doing their best to change with them and ensure that the downtown Hamilton business community still has the support they need to make things happen. For more details on CoMotion or to get in touch please visit them online here.
If you are a Downtown Hamilton BIA member business and would like to share your experiences during COVID-19 please email Suzi Ozer at suzi@downtownhamilton.org