Part 21
Dr. Disc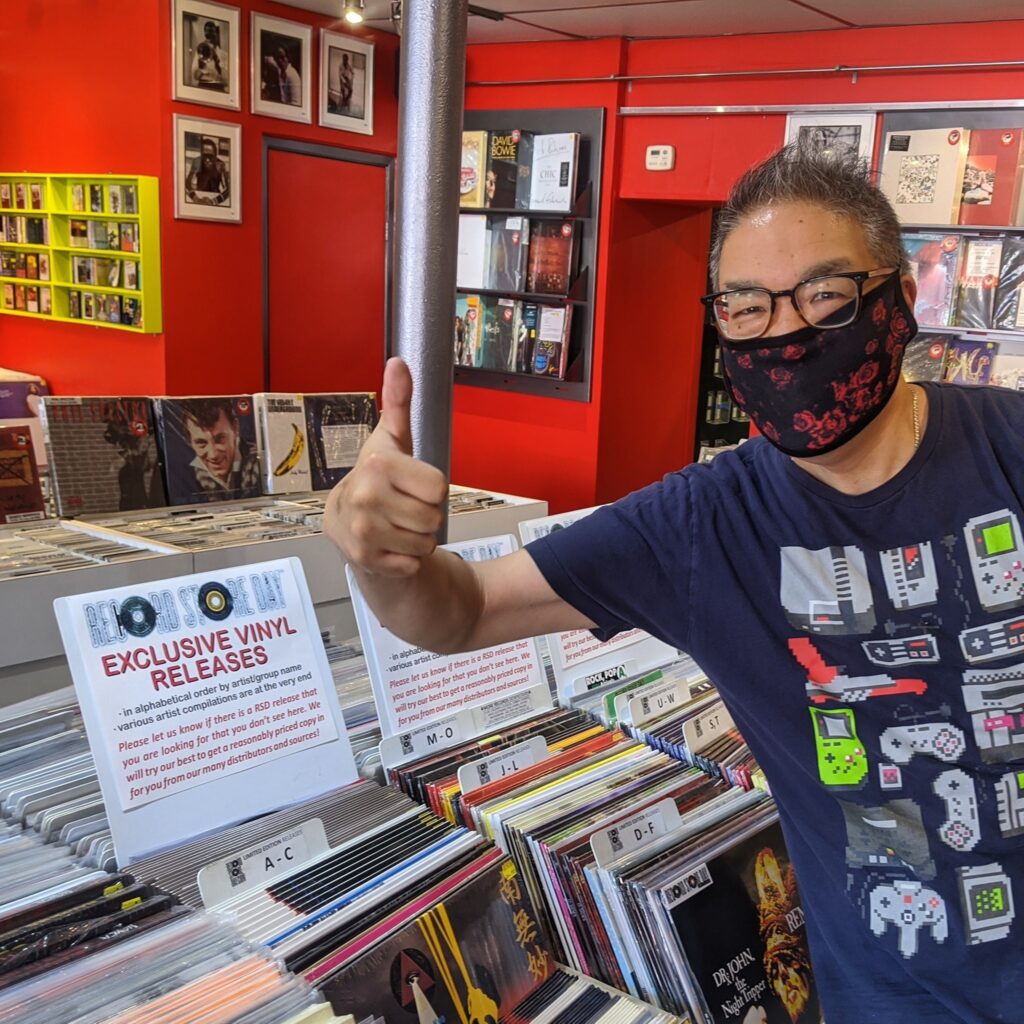 Support for local businesses has been a major part of weathering COVID-19 restrictions and has been vital to the success of our business owners. Efforts made by shoppers to shop curbside or online throughout pandemic limitations has truly shown the desire of Hamiltonians to help support their favourite businesses in difficult times. Long-standing downtown staples like Dr. Disc, who have supported their community for decades, appreciate the loyalty of their customers more than ever.
Dr. Disc, located at 20 Wilson Street, has been a destination for music lovers in downtown Hamilton since 1991. Dr. Disc keeps an ever-growing stock of new, used and imported CDs, LPs and DVDs of all genres. In addition to music, Dr.Disc also specializes in sales, rentals and repairs of DJ equipment and related accessories making them an essential stop for many Hamilton musicians. Brick and mortar music stores like Dr. Disc who specialize in vinyl and CDS have certainly faced their fair share of challenges, even before COVID-19 made its appearance, as the way in which people listened to music changed over the years. The limitations brought on by the pandemic, however, posed an entirely different set of challenges that forced the store to close its doors in early 2020. As restrictions began to ease, Dr. Disc cautiously reopened for curbside orders until in-store shopping was once again safe enough.  In response, the community came out in droves for Record Store Day and helped Dr.Disc have their best sales day since opening, an achievement that the staff of Dr. Disc and owner Mark Furukawa could not be more grateful for.
When we think of important community hubs music stores might not come to mind immediately, but they really do serve as a vital gathering space for music lovers to share their passion and create new connections. It is fitting that Dr. Disc would serve as this space downtown, Mark has been a champion of not only his business but a cheerleader of Hamilton and of the city's music scene as a whole. As Chair of the Hamilton Music Advisory Team, Mark works towards creating opportunities for local artists and for live music lovers to enjoy. He has also hosted a series of rooftop concerts on the roof of Dr. Disc, pre-COVID of course, to showcase local talent. You will even find Mark DJing throughout the city.
Dr. Disc is celebrating an amazing 30 years in business this year and while they certainly did not anticipate doing so amid a global pandemic, perhaps it's even more special that they have made it here in spite of the past turbulent year and a half. Dr. Disc wanted to ensure that they could thank all their loyal customers for 30 years of support as well as invite new customers to visit by throwing their biggest sale so far! They are offering 30% off all regularly priced new and used vinyl, CDs, and DVDs from August 3 through 31 along with 15% off all regularly priced audio equipment including their selection of new and used turntables, speakers, headphones, vinyl cleaning supplies, and other related accessories (some items may be exempt from the sale, so please check in-store for details). You will find more specials, giveaways, and features during the month of August to keep the celebrations going so make sure to check their socials for the latest details. Find Dr.Disc online here.
At the BIA, we are grateful to have the support of Dr.Disc in our downtown community and for their help in making events like our Summer Promenade possible with their equipment and expertise. We wish Mark and his long-time staff a very Happy 30th Birthday!
If you are a Downtown Hamilton BIA member business and would like to share your experiences during COVID-19 please email Suzi Ozer at suzi@downtownhamilton.org