Part 22
The Rise (Literally) of Downtown Hamilton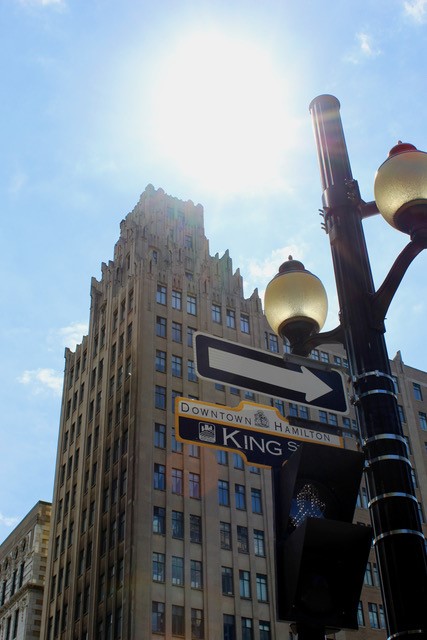 If you have had the chance to take a walk downtown in the past year or so you have probably wandered by a slew of construction sites and buildings being revamped. There has been a boom of development in the downtown core that started even pre-COVID-19 impacts, but it has continued to grow throughout the pandemic as well. These projects will be vastly increasing the residential component of downtown while also bringing in more commercial space along with it.
One of the largest projects that is currently underway is the Cobalt Luxury Residences On King. This site can be found at the corner of King and Hughson Streets and will front onto King, Hughson and King William Street when completed. The two 30 storey towers will feature over 500 units with commercial storefronts on the ground level. The Cobalt Residences website promises to offer sleek suite designs, sublime amenities, everyday must-haves and the ability to get anywhere in just minutes. Further down King William Street is another project, Kiwi Condos at 212 King William St, a 14 storey building currently under construction that when completed will feature over 250 units.
Another large residential project includes The Residences of Royal Connaught Phase 3, The Moderne, by Spallacci Group and Valery Homes. The Moderne is the final phase of the revitalization of the Royal Connaught as condominiums and is anticipated to be over 30 storeys high featuring amenities such as a wine bar, outdoor terrace and social lounge. Not far from The Residences of Royal Connaught is the Gore Park Lofts project. Located at 121 King Street East where King Street East meets Catharine Street, this 6 storey building will feature 40 units and may be remembered for formerly housing Crazy Bill's Convenience on the ground floor for many years. Just across from Gore Park Lofts at 2 Catharine Street North you will soon find Momoco Donuts, a unique Asian fusion donut shop brought to you by the makers of Mysweetooth on Main Street.
When it comes to purely commercial spaces, a significant project has been the construction of the Effort Trust Offices in Gore Park at 46-50 King Street East. This 6 storey building will serve as Effort Trust's new head office location. Across Gore Park at 59 King Street East Core Urban Inc. has revitalized the building as part of their latest downtown project. The exterior facade was reimagined and rebuilt to reflect its former glory and the interior was reconfigured to suit the needs of businesses. Core Urban has renovated a number of other properties in the downtown core including Empire Times and Templar Flats on King William Street, 69 John Street South and 2 James Street North.
With the increase of available residential and commercial spaces we will be seeing more and more people not only working downtown but also making it their home. With more people living in the core it will only continue to grow as a neighbourhood and help to support the new businesses we see being inspired to open in the area as well as those that have been dedicated to downtown for decades. COVID-19 has radically changed how many of us work as well as where we choose to call home, as more people choose to make Hamilton their destination we look forward to seeing how the downtown core will continue to adapt.
If you are a Downtown Hamilton BIA member business and would like to share your experiences during COVID-19 please email Suzi Ozer at suzi@downtownhamilton.org