Part 28
Live Events Return to Gore Park with Christmas Tree of Hope Lighting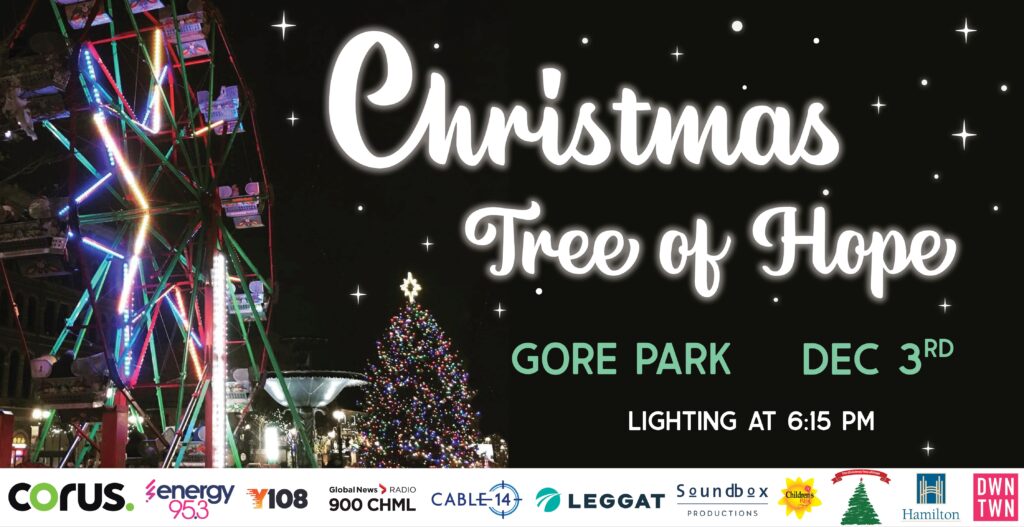 By now we have all essentially become used to events in the COVID-19 world with virtual being the primary way we've been able to attend over the past two years. With easing restrictions and the introduction of new policies surrounding vaccines over the past few months we have seen the return of in-person concerts and events. In a little over a week, we are excited to see the return of a live, in-person attendance for the annual lighting of the Christmas Tree of Hope! Not only does this event traditionally mark the beginning of holiday festivities downtown, this year it celebrates the return of large scale events in Gore Park.

Last year the annual Christmas Tree of Hope Lighting was 100% virtual, and while it was disappointing not to have the typical crowd to celebrate the lighting it did open up a great new opportunity to reach even more people who traditionally are unable to attend in person. To continue to make the event accessible for everyone in 2021, we are happy to bring back an in-person tree lighting with a virtual option as well. Presented by The City of Hamilton and The Downtown Hamilton BIA in partnership with 900 CHML/Y108/Energy 95.3 RADIO, join us as we light up downtown with the Christmas Tree of Hope in Gore Park on Friday, December 3 at 6:15pm.
Enjoy a meal or hot beverage from your favourite downtown restaurant before or after the lighting (or grab takeout!) and tune in or watch live as the tree comes to life.

Along with the return of the live tree lighting comes the return of live music to the park. Little Peter and the Elegants will be live on stage in Gore Park to help us kick off the evening beginning at 5:30pm. A live stream of the event will be available from 6-6:30pm on Cable 14's website as well as through 900 CHML's social media channels. If you plan to attend in person, please wear a mask and respect physical distance guidelines.

The annual Children's Fund Christmas Tree of Hope was founded in 1976 to bring hope to kids and families struggling through the holiday season. Local charities need support more than ever to help our community through the holiday season. To donate to the 900 CHML/Y108/Energy 95.3 Radio Children's Fund text DONATE to 30333 to make a $5 contribution (donation will appear on your cell phone bill), donate by phone at 905-521-2320, in person at any Hamilton area Tandia location or online via PayPal or CanadaHelps.org. New, unwrapped toy donations can be dropped off at our BIA office (20 Hughson St. South, ground floor) until December 19. Full details on how to donate can be found online here.

In addition to The Christmas Tree of Hope, Gore Park Ferris Wheel rides are back this year as well! Free rides on the Ferris Wheel will be available noon-8pm every day from December 4 to December 23. The Ferris Wheel will be onsite for the tree lighting as well. Please wear a mask if you are able, physical distance while in line and do not attend if you are feeling unwell.

Visit the tree and take a free ride on the Ferris Wheel all throughout the holiday season, a perfect pit stop after doing some holiday shopping. We are excited to be able to celebrate the Christmas Tree of Hope lighting in person once again, and while we may not be back to 100% capacity in terms of events and activities this certainly marks a positive step in the right direction.
If you are a Downtown Hamilton BIA member business and would like to share your experiences during COVID-19 please email Suzi Ozer at suzi@downtownhamilton.org