Part 9
Hamilton Fringe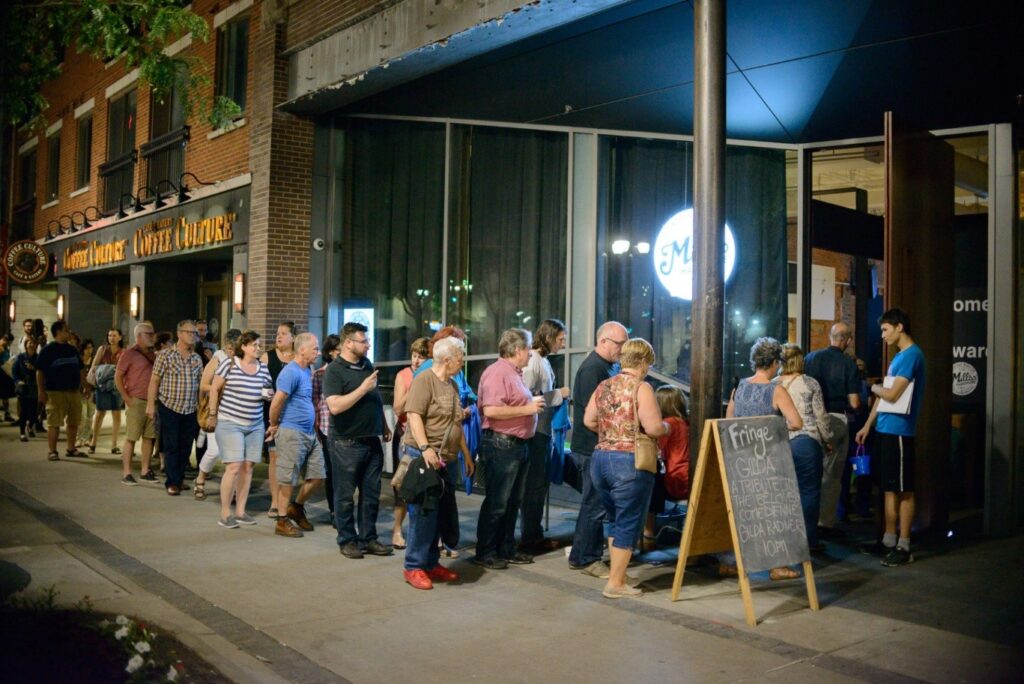 As we quickly approach the one year mark of the reality that is COVID-19 and its effects on our community, so many of us are missing human interaction and getting out to experience events. The event industry has clearly been hit hard by the inability to physically gather with each other, but event organizers have found ways to bridge the gaps between us even in this temporary reality. One of these organizers is the Hamilton Fringe and after having to cancel their annual Fringe Festival in July of last year, they are planning exciting new developments to continue to bring art to Hamilton.
Fringe festivals are actually a global phenomenon. The first Fringe festival took place in Edinburgh, Scotland in 1947 when eight groups of young theatre artists invited themselves unofficially to the inaugural Edinburgh International Festival that year. They reasoned that if people were going to Edinburgh to catch a show, that they may as well catch one of their productions too. The "do it yourself" spirit is core to the Fringe philosophy. The event is non-juried with artists chosen by lottery and 100% of ticket sales revenue being returned to the artists, there is artistic freedom—no censorship is allowed, and provides an affordable opportunity for artists and audiences to participate.
Edinburgh's Fringe is now recognized as the largest arts festival in the world. The oldest and largest Canadian Fringe Festival began in 1982 in Edmonton, Alberta. The concept has since spread to many other Canadian cities including Hamilton where, in 2002, the Hamilton Festival Theatre Company was formed to produce the annual Fringe Festival. The festival itself is an action-packed performance event that takes place over 12 days each July at various Hamilton venues with over 50 companies offering up musicals, dance, comedies, magic shows, dramas, and family entertainment in more than 400 performances.
In addition to the annual Fringe Festival, Hamilton Fringe has just completed their sixth annual Frost Bites festival, Hamilton's only site-specific, winter performance festival. The event features a diverse array of local and national artists presenting performance 'bites' throughout the buildings and grounds of unique found spaces, with the goal of heating up Hamilton during the coldest month of the year. Traditionally with Frost Bites each year a physical location is chosen in which to create theatre. With the restrictions that COVID-19 has brought about, in 2021 the festival offered an array of small, physically distanced experiences and playfully interactive digital performances that invited audiences to explore their relationships to space, technology, and connection. Who better than local artists to use creativity to overcome obstacles? Offerings included self-led outdoor recreational experiences and interactive digital performances that could be enjoyed from home. All ticket purchases were required to be made in advance and a Pay-What-You-Can-Afford ticketing model was used to ensure anyone who wanted to attend could take part.
As for reimagining Hamilton's Fringe Festival itself, it will return July 14 – 25, 2021, with shows happening live, online, indoors, and outdoors while prioritizing the health, safety, and accessibility of artists, audiences, staff, volunteers, and community partners. Live performances in all categories will adhere to all public health guidelines in place for July. Adjustments include extra time between performances to reduce traffic flow and allow for extra cleaning, indoor venues designed to accommodate social distancing, expanded opportunities for outdoor and/or online shows, and more.
Unique programs are being used in 2021 that fit in with COVID-19 guidelines but still allow for a fun and engaging event. The Skip The Glitches series allows audiences to order a 20-minute performance right to their home's own front lawn while the Digital Exclusives series includes online-only performances. An expanded outdoor Fringe Club footprint in the newly-upgraded John Rebecca Park featuring a new outdoor stage is also in the works for attendees to enjoy safely. Theatre on Demand is another new initiative in 2021. The success of so many digital streams of live theatre opened many people's minds to the possibility that a play can also be enjoyed online. Six performance companies will be producing a live staged piece of theatre and will have one performance captured, edited, and then digitally streamed on-demand for audiences far and wide.
The ability to be completely nimble and adapt to changing restrictions is a significant hurdle but one which organizations like Hamilton Fringe are doing their best to accommodate with plan A's, B's, and C's. There is something to be said for the sheer resiliency of groups willing to accept all health and safety protocols and requirements and overcome the current hurdles of event planning. Even through having to cancel 2020's Hamilton Fringe Festival organizers were still able to pull together What The Fest?! in response, providing digital and physically distant performances by artists originally scheduled to perform. The Gilded Hammer Awards were also created in 2020 as another source of community for artists designed to celebrate the fierce spirit of independent theatre artists, to award innovation and growth, to nurture emerging talent, and to recognize the national achievements of artists from Hamilton.
Art is one of the vital ways in which people are able to be a part of a shared experience in times when we physically cannot be together. As a community that is currently largely separated from one another, these events are so important to not only bring some joy and excitement but also to provide outlets for artists to work and share their creations. It's organizations like Hamilton Fringe that have always brought excitement and vitality to downtown Hamilton and they are the ones that will continue to do so during and after COVID-19. Learn more about Hamilton Fringe and all they do here.
If you are a Downtown Hamilton BIA member business and would like to share your experiences during COVID-19 please email Suzi Ozer at suzi@downtownhamilton.org