Part 1 – The Witch's Fix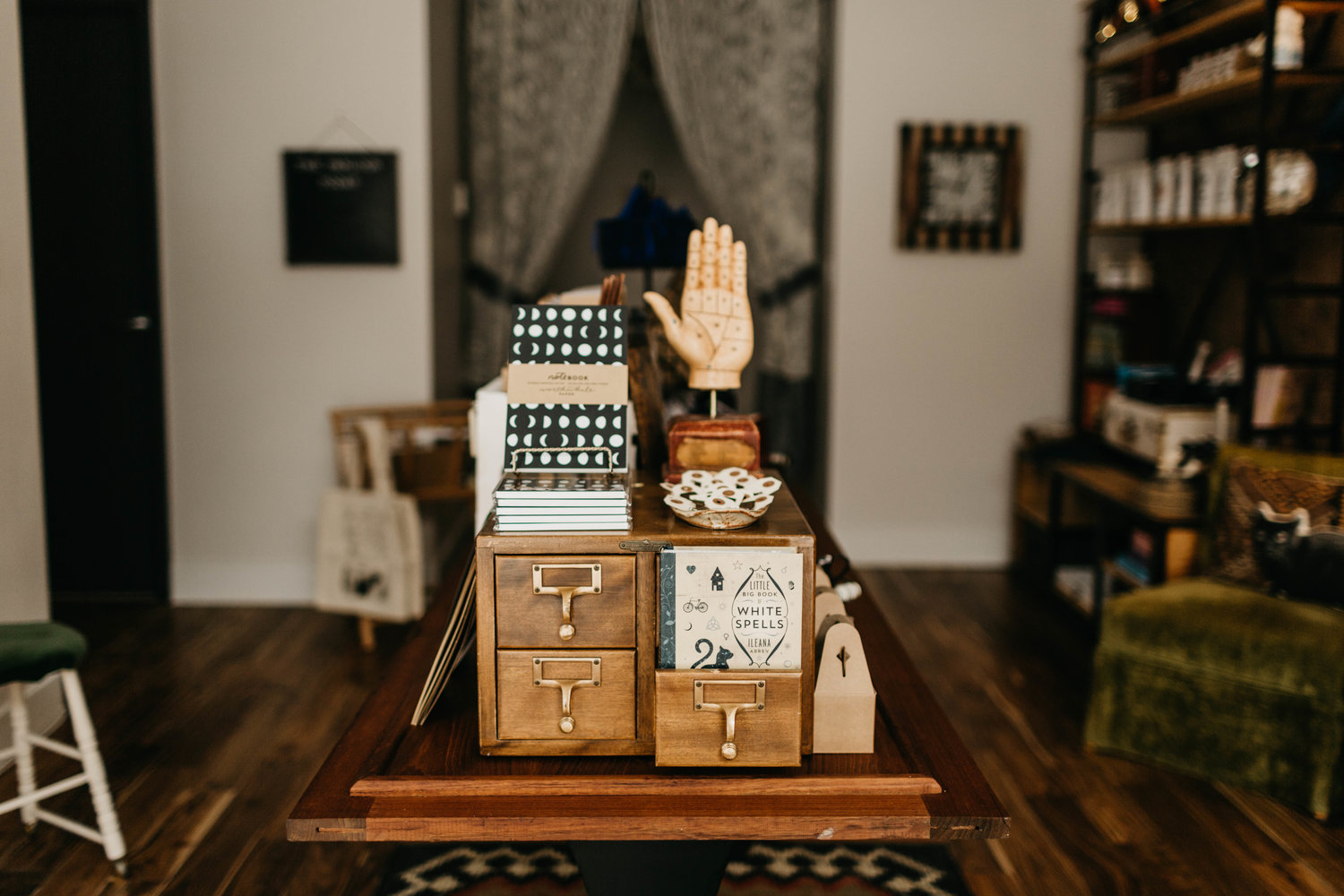 Unless you've been blissfully MIA since March, you're fully aware that COVID-19 has become the focal point of the crazy ride that is 2020. The pandemic has changed the way we go about much of our lives, perhaps nothing more so for many than how and where we do work.
We have always been impressed by the resilience and creativity of our businesses downtown even before the reality of operating during a pandemic, but we would like to share their current experiences and highlight how our businesses are navigating this novel landscape.
For our first piece I e-chatted with Lauren, shopkeeper and owner of The Witch's Fix located in the historic Treble Hall building at 6 John St. North. The description on the shop's website is a perfect summary of the beautiful space: The Witch's Fix is Hamilton's eclectically magical gift shop. Home to super-natural remedies, curious oddities, whimsical gifts, and magical resources, The Witch's Fix was created from the soul intention of offering simple ways to lead an enchanted life. Rooted deeply in creativity and imagination, The Witch's Fix encourages you to embrace your inner power, and invites you to challenge your perceptions – to see magic in the mundane, and opportunity in the ordinary.
Lauren's shop opened in 2019, so she did not have a very long time of operating 'normally' before having to adopt some new strategies. Here is what she had to say about her experiences so far:
Running a retail shop during a pandemic has been no easy feat. Each day is a new learning experience, and since March, it's seen me pivoting constantly while I figure out the best way to serve my customers. I spent the first three weeks of quarantine setting up my online store and getting that off the ground. I was glad to have it completed as it's something that I'd been meaning to do for a long time, but there was some stress wondering if it would do well enough to sustain the high overhead costs of running a brick & mortar shop downtown. Luckily, the online shop was a great success, and since reopening my doors in July, it continues to do well. I still offer free local deliveries on Thursdays for my customers who are opting to shop online for the time being, and the retail store is operating with limited hours (Thurs/Fri/Sat from 10-3pm) until we have a better understanding of Covid's long-term forecast.
One of the challenges has been having to wait longer for my stock shipments to arrive. What used to take 3 days to arrive on my doorstep, now takes almost two weeks. I don't have any storage space at the shop so I'm unable to order massive quantities to sustain me over a month or two, so this means sometimes the shop's shelves can look bare while I wait for items to arrive. Thankfully everyone who visits the store has been super understanding about this.
Another challenge has just been monitoring the mask/sanitizer use and the amount of people in the store at a time. I will never rush my customers while they're shopping, and with limiting the amount of people inside at any given time, this means that sometimes people are waiting over 20 minutes to come into the store. Coupled with the fact that sometimes the shelves are near empty, I'm constantly worried that people will be disappointed with the small selection after waiting in line, but unfortunately, that's sort of the case for many shops at the moment.
Lauren's challenges are those that many retail businesses are facing. Having an online shop has become vital, and was a huge upper hand before COVID-19 as well, but is undoubtedly a daunting task for small businesses to get off the ground as they continue manage the rest of their business needs (for others looking to make the leap to online, exploring the resources offered at www.digitalmainstreet.ca may be a good place to start).
Struggles with timely deliveries and maintaining stock have become an unfortunate norm for retailers, big and small (as stores reopened to the public you probably noticed emptier than usual shelves at many of your regular shopping destinations). Delayed deliveries have become an unfortunate reality during COVID-19, but all the more reason to continue to support your favourite shops & allow them to keep bringing in new items. If nothing else we at least are all learning lessons in patience.
The new realities of operating with COVID-19 restrictions has asked small business owners to wear more hats than they already were. In addition to all the everyday aspects of running a shop, owners are now social media curators, website maintainers and even local delivery drivers at times. It's in the face of these challenges where you can truly see the resiliency of our businesses as well as the innovation from many. LEN for instance, a retail shop located at 22 Wilson St, offered virtual shopping for customers during the height of COVID restrictions. These types of pivots (insert Friends meme here) are how many small businesses are managing to stay successful through ever changing restrictions.
We're more than happy that so far Lauren has found enough success in her new ways of doing business that she can still support a brick and mortar store front. While online shopping opens many doors, having the opportunity to browse beautiful shops like Witch's Fix is what makes destination retail an experience in itself. Lauren's shop offers an escape from the everyday, making it all that much more of an important destination during challenging times. What better way to forget the stresses of a day than with enchanting gifts?
Find The Witch's Fix online here and follow along for new arrivals & shop information on Instagram here.
If you are a Downtown Hamilton BIA member business and would like to share your experiences during COVID-19 please email Suzi Ozer at suzi@downtownhamilton.org.