Part 7
Come Early & Stay Late as Live Events Return Downtown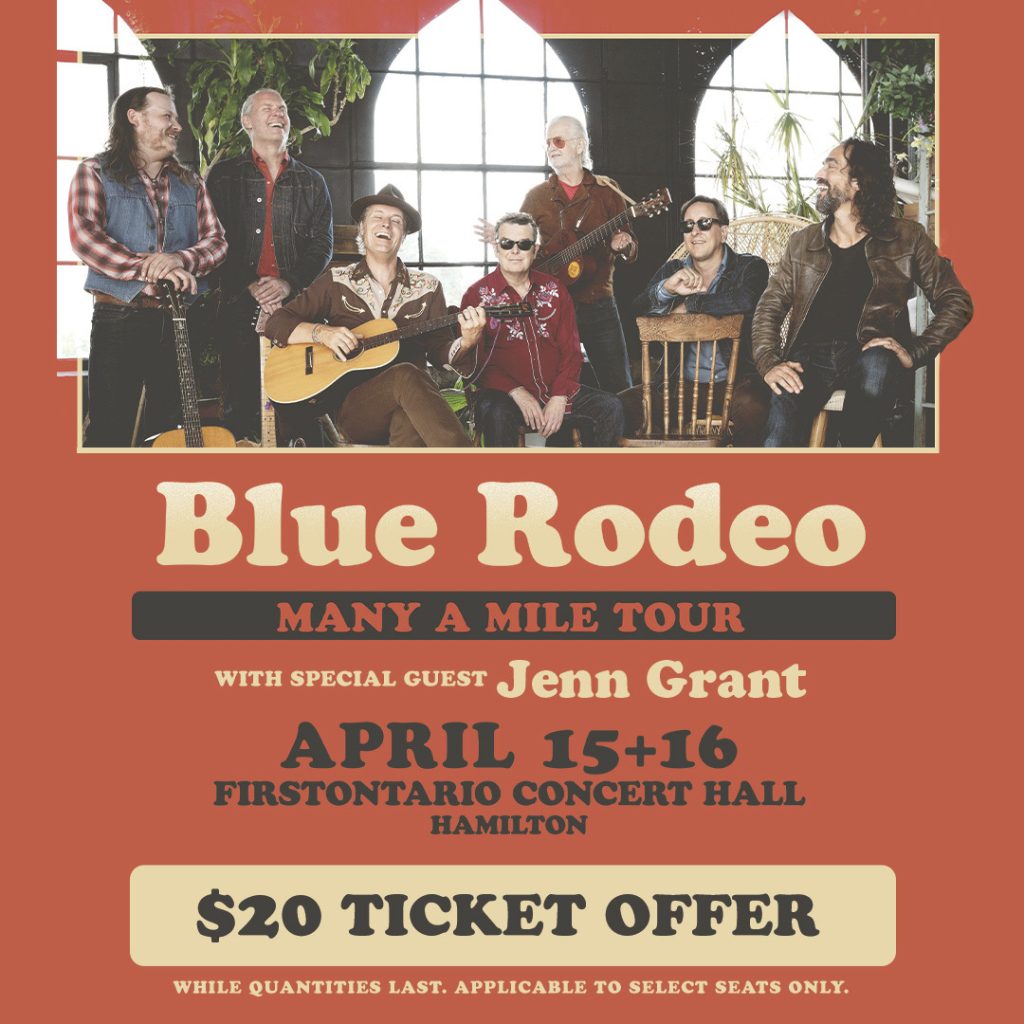 With the change of seasons and milder weather approaching, spring is often the time of year many of us look forward to breaking our winter hibernation and getting back into doing more activities. With pandemic restrictions also scaled back it seems like the perfect time, for those who are comfortable, to once again explore the shows and events taking place downtown.
Core Entertainment, which drives events to FirstOntario Centre, FirstOntario Concert Hall and The Studio, is excited to welcome event-goers back with a range of concerts and events throughout the next few months. Core is currently offering a special promotion to encourage you to get back into the swing of live concerts by getting "lost together" with Blue Rodeo at the FirstOntario Concert Hall on April 15 or 16, 2022. Take advantage of special pricing on select seats – only $20 each! ($31.40 with taxes and fees included). This $20 special offer does not need a code and is only available while quantities last and on select seats. April 15 tickets can be found online here and April 16 here. While taking advantage of this great promotion why not take some time to also get "lost together" at one of the many downtown restaurants within a short walk of FirstOntario. Make a reservation for dinner or stop in for a cocktail to round out your evening. Restaurants on King William St. and James St. North are only a 5-minute walk away from FirstOntario venues, restaurants on John St. North 6 minutes, and John St. South just under 10 minutes. With patio season on the way it's a great time to plan a date or meet up with friends. Explore all of our restaurant options online here.
Additional events on tap for April include the ISU World Synchronized Skating Championships from April 7 to 9 and Monster Jam April 23 & 24, both at the FirstOntario Centre. If you are a fan of live sports, you will also want to make the time to check out the Toronto Rock Pro Lacrosse team that now calls Hamilton home. The Rock not only bring a fun atmosphere and another great sports franchise to Hamilton, they also offer a summer camp, birthday packages, and happy hour specials one hour before game time. Catch one of their upcoming games Saturday, April 2 or Saturday, April 16 at 7pm. For basketball fans, the start of the Hamilton Honey Badgers 2022 season is not far off, their opening game is May 25.
Another unique experience to be found downtown is Beyond Van Gogh, an immersive art experience taking place at the Hamilton Convention Centre by Carmen's until April 10. Through the use of cutting-edge projection technology and an original score, Beyond Van Gogh breathes new life into over 300 of Van Gogh's artworks. Mills Hardware (95 King St. E) is another live entertainment venue that is getting back to live shows. Royal Canoe with Living Hour will be playing Tuesday, April 5 and Friday, April 8 Mattie Leon with guests Coda Facto takes the stage. See the full lineup of currently scheduled events at Mills online here.
With Hamilton's major entertainment venues located conveniently close to our downtown restaurants and shops, there are lots of reasons to come early and stay late after an event. Visit unique retail destinations before a show, grab a coffee from a local shop before an afternoon event, or stay for a full evening out with dinner and drinks. As events begin to once again take center stage downtown we hope that you'll take advantage of the entertainment variety on tap and reacquaint yourself with the city's core.
If you are a Downtown Hamilton BIA member business and would like to be featured in a blog post, please email Suzi Ozer at suzi@downtownhamilton.org