Part 10
Outdoor Patios Return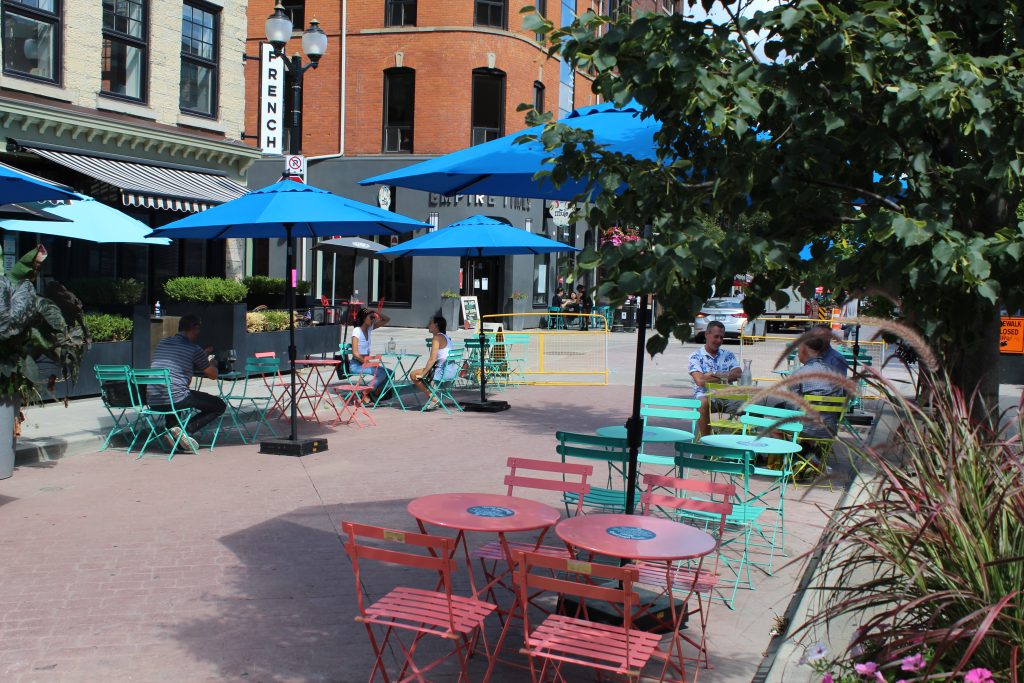 Patio season has officially returned to downtown Hamilton. In 2020, in an attempt to help support businesses when indoor dining was intermittently off the table, Hamilton City Council approved the creation of the Temporary Outdoor Patio Program (formerly Outdoor Dining Districts and merged with On-Street Patio Program). This program allows eligible local businesses to establish temporary seasonal patios and seating areas on municipal or private property (if current zoning is compliant).
Restaurants located on King William St. between James and Hughson St. will once again be using the street to extend their patios for the summer. Please check in with the restaurant when you arrive and they will seat you. Participating restaurants include Mezza Caffe (28 James St. N.), Berkeley North (31 King William St.), RELAY Coffee Roasters (27 King William St.), Undefined (35 King William St.), and The French (37 King William St.).
Many other downtown Hamilton restaurants have taken advantage of the ability to use pre-constructed, on-street patios that are installed in the spring and utilize one on-street parking spot. This program existed even prior to COVID-19 restrictions and is a great resource for businesses to capitalize on the nice weather & extend their seating inventory for the season. You will be able to find these temporary patios at Capri Restaurant (25 John St. N.), Redchurch Cafe + Gallery (68 King St. E.), The Mule (41 King William St.), The Diplomat (43 King William St.), HAMBRGR (49 King William St.), That's My Jam (51 King William St.), Ray's Food & Liquor (10 James St. N.), Earth to Table: Bread Bar (14 James St N). Patio seating is available at Sankofa Dining (92 Jackson St. E., formerly Claudio's) as well. New patio additions for this year include Afrolicious (46 James St. N) and Tolagos (54 James St. N).
Patio season is extended again this year to give diners the opportunity to get out and support their favourite restaurants even longer. Patio dining will be an option for restaurants until October. Hours will vary by restaurant and patios are weather dependent (remember to dress for the weather!). Please be conscious and respectful of each restaurant's protocols and follow your favourites on social media for the latest updates.
With the sun shining and the warm weather much more consistent, now is the perfect time to start spending some more time downtown, and doing so with a bite to eat or refreshing drink makes it that much better.
If you are a Downtown Hamilton BIA member business and would like to be featured in a blog post, please email Suzi Ozer at suzi@downtownhamilton.org