Part 12
Outdoor Patios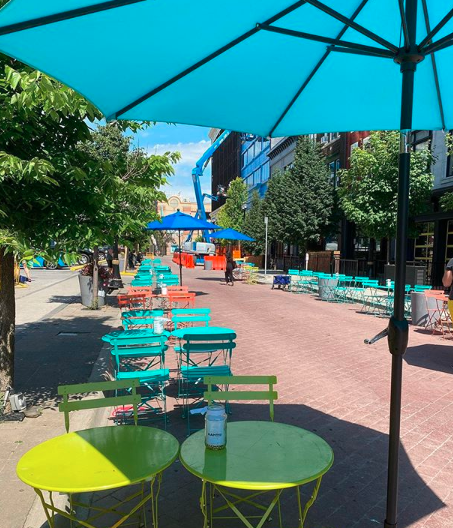 Hamilton has once again moved into the Grey-Lockdown zone of the provincial COVID-19 framework, meaning yet another change for businesses downtown, especially restaurants. The quickly changing nature of restrictions means our restaurants are constantly on their toes and have to be ready to adapt their service quickly. Indoor dining is off the table, so restaurants will be back to relying on takeout orders as well as their patio seating. Spring is here and although it may not fully feel like it yet, there are so many patios downtown to serve you on the beautiful days!
Many downtown Hamilton restaurants have taken advantage of the On-Street Patio program available through the City of Hamilton. This program allows restaurants within Business Improvement Areas to establish temporary seasonal patios and seating areas by utilizing on-street parking spaces. You will be able to find these temporary patios at Capri Restaurant (25 John St. N.), Redchurch Cafe + Gallery (68 King St. E.), The Mule (41 King William St.), The Diplomat (43 King William St.), HAMBRGR (49 King William St.), Uncle Ray's Food & Liquor (10 James St. N.), Earth to Table: Bread Bar (14 James St N) and Sankofa Dining (92 Jackson St. E., formerly Claudio's).
The businesses along King William will also once again be taking advantage of a street closure to create an on street patio along the entire street. Please check in with the restaurant when you arrive and they will seat you. Participating restaurants include RELAY Coffee Roasters (27 King William St.), Berkeley North (31 King William St.), The French (37 King William St.), undefined (35 King William St.), and Mezza Caffe (28 James St. N.).
Absinthe (38 King William St.) and Escape Manor (103 King St. E.) both have pre-exisiting patios they will us this season.
Patio season this year is extended to give visitors the opportunity to get out and support their favourite restaurants even longer. Patio dining will be available from April to October. Hours will vary by restaurant and patios are weather dependent. Please be conscious and respectful of each restaurant's COVID-19 protocols and follow your favourites on social media for the latest updates. As always, please do not attend any patios if you are feeling ill.
We've passed the one year mark of various degrees of lockdowns here in Ontario, there's no doubt that many people are ready to get out and enjoy outdoor activities safely. What better way to get out and take advantage of weather warming up than by enjoying a delicious meal? Not comfortable with dining out yet? No problem! Most of our restaurants offer take-out and delivery options. You can find a list of how to order from them here.
We're continually amazed by our restaurants and their ability to quickly adapt. Moving back and forth between COVID-19 restrictions can feel a bit defeating for businesses and customers alike, but the sunshine and warmer days will be a welcome change to help us continue to make it through and support each other in the process.
If you are a Downtown Hamilton BIA member business and would like to share your experiences during COVID-19 please email Suzi Ozer at suzi@downtownhamilton.org