Part 27
Hamilton Day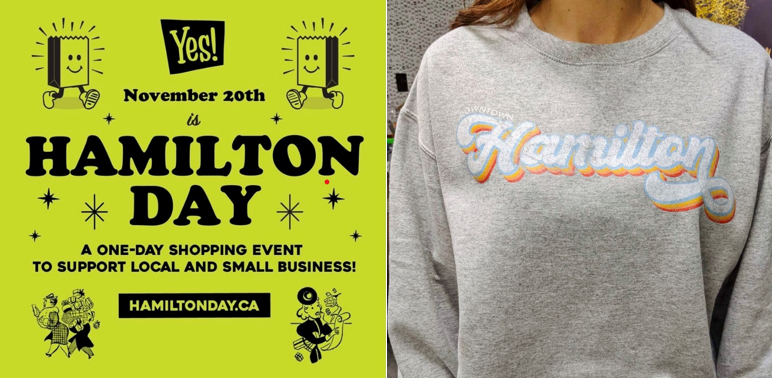 In the BIA world, we are no strangers to shopping local and encouraging Hamiltonians to get out and explore their city, perhaps now more than ever as we continue to recover from the ripple effects of COVID-19. Hamilton Day, coming up on Saturday, November 20, is a new initiative & a great opportunity to show your love for Hamilton.
Hamilton Day is a one-day celebration to support small and local retailers, restaurants, and services. The Hamilton Chamber of Commerce first held Hamilton Day in 1931 during the depths of the Great Depression in an effort to boost spirits as well as the local economy. Hamilton Day was symbolic of a rallying spirit in the face of adversity and it's time to do it again as we head into the holiday season and our businesses are still recovering from pandemic setbacks. This is a great chance to support your favourite local business or to try a new restaurant or shop. In downtown Hamilton, you can show support by stopping in at some of our destination retail shops including Mabelellie's, The Witch's Fix, LEN, Leathers or Dr. Disc, by making a nail, hair, piercing, or tattoo appointment at Vagabond Saints Tattoo Lounge & Spa or by grabbing a bite at one of our many great restaurants – find a full list online here. There are so many ways to support all types of shops, even if you cannot make a purchase. There is always the option to share or like posts on social media or make suggestions to friends and family.
In celebration of Hamilton Day the Downtown Hamilton BIA will be handing out scratch-off tickets to our businesses, customers will have a 1 in 5 chance at winning a custom downtown Hamilton sweater (pictured above). Limited scratch-offs are available, winners will be able to contact us to pick up their sweater in their preferred size. Your purchase will not only help out a local business but also could be your chance to win! Find all details on this initiative here.
If you are a local, independent business you are invited and encouraged to participate in Hamilton Day. This includes small retail shops, cafes, restaurants, bars, theatres, independent artists and musicians, florists, gyms & fitness studios, personal services, entertainment and games stores, and more. Consider offering a one-day special, launching a new menu item, or collaborating with other local businesses on November 20th to help celebrate. Complete the form online here to access a suite of resources to share that you will be participating in Hamilton Day.
Hamilton Day is a great reminder to celebrate all things local and a perfect time to get a head start on the busy holiday shopping season. We have done a great job supporting our downtown community through the various stages of restrictions and lockdowns, our businesses would be thankful to see your show of support on not only November 20th but whenever possible.
If you are a Downtown Hamilton BIA member business and would like to share your experiences during COVID-19 please email Suzi Ozer at suzi@downtownhamilton.org