Part 29
Mablellie's Drawer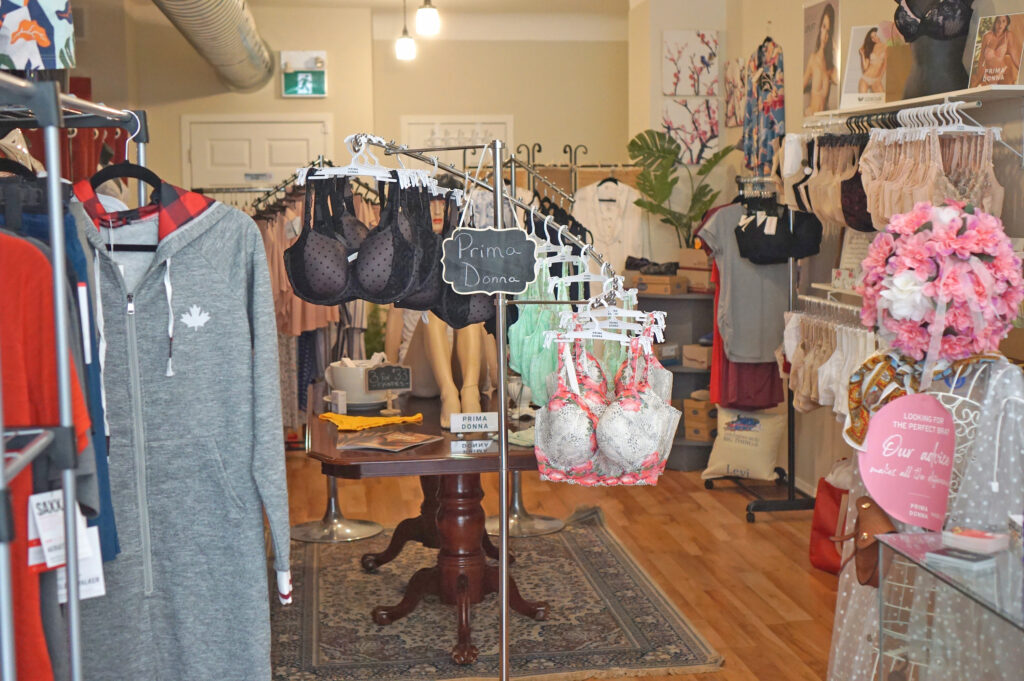 Mablellie's Drawer, found at 17 John Street North, is another example of a downtown business that took the plunge and opened during the uncertain times of COVID-19. This sleepwear, lingerie, and swimwear shop opened up over the summer and has been a fantastic addition to John Street.
There is a story behind the unique name Mablellie's, it was chosen in honour of owner Betty Mercer's mother-in-law Mable and mother Ellie. Mable and Ellie are the inspiration behind creating a place for all women regardless of age, race, size, or shape. Betty and her daughter Melissa pride themselves on being a family-owned & operated business where personal attention is the key to making all customers feel as important as they truly are. Their goal is to create a space for all women to feel comfortable, beautiful, and welcome. Their inclusive sizing and products are aimed at supporting all walks of life and at making your lingerie shopping experience as relaxed and comfortable as possible.
While Mablellie's might carry a large variety of women's products, but they have men covered too! You will find the infamous SAXX line for men in intimates and sleepwear with pre-order options as well for holidays, Father's Day, Valentine's Day, or other occasions to ensure you find the size and colour combination you need.
For many of us, December is the time of year when we spend a lot of time searching for the perfect holiday gifts. Mablellie's has so many great options to choose from, whether you're looking for stocking stuffers or something extra special. You will find cozy foot covers, beautiful loungewear, blanket scarfs, hats, mittens, and more. They have everything you need to stay cozy and stylish a the same time. Visit them on Instagram here to follow along with their countdown to Christmas where new items are featured daily, great for gift ideas or for a little something to treat yourself.
While the welcoming environment and dedicated customer service Mablellie's brings to downtown Hamilton, where they like to stress that everyBODY is beautiful, is another testament to the passionate business owners we are lucky to have in our area. Just opening their beautiful shop during a time when COVID-19 restrictions were and are still very much are a reality is an impressive feat. As always, if there is something you're looking for, especially gifts this time of year, we encourage you to first see if you can find it at a small business, you might be surprised by just how much you'll find! Visit Mabellie's in person today or online here.
If you are a Downtown Hamilton BIA member business and would like to share your experiences during COVID-19 please email Suzi Ozer at suzi@downtownhamilton.org