Part 3
Findlay Personal Injury Lawyers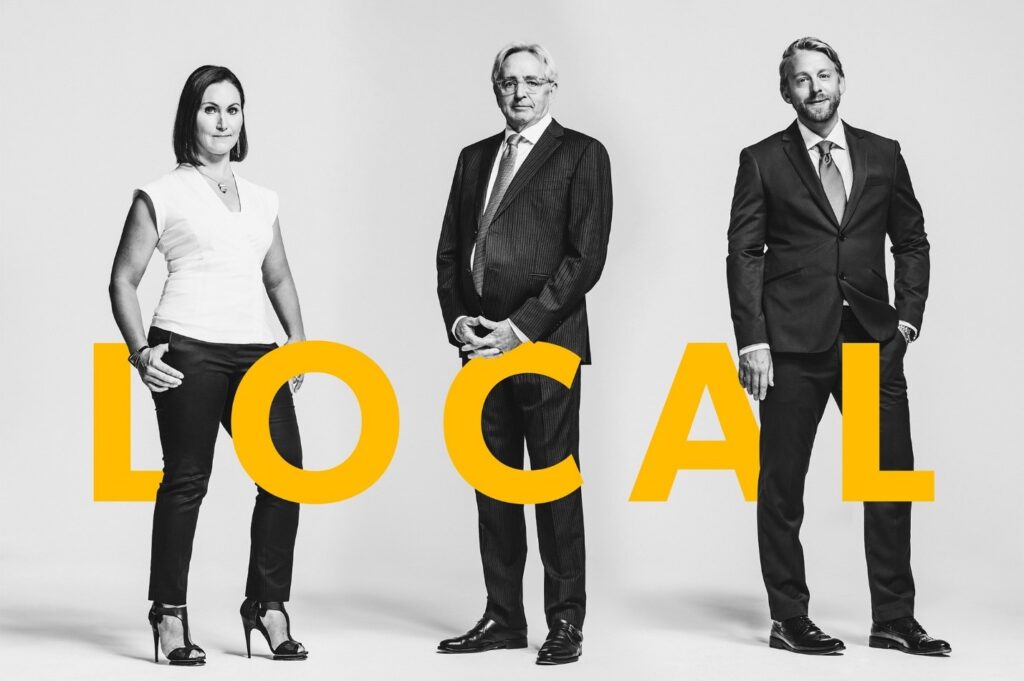 We know that COVID-19 restrictions have hit main street businesses hard in many ways, but in addition to retail shops and restaurants, professional offices have also had to reimagine how their employees will be working throughout the pandemic. Businesses requiring office space make up a vast majority of employers adapting to our new normal.
Over 60% of the businesses within the Downtown Hamilton BIA area are professional services – lawyers, accountants, marketing agencies, etc. Findlay Personal Injury Lawyers, whose office is located in the office tower at 20 Hughson St. S., is a prime example of one such office. For over 40 years Findlay's office has served the community of Hamilton, Ontario and the surrounding area, helping individuals on the road to recovery by securing compensation for losses, including medical and rehabilitation costs. For more information on Findlay, you can visit them online here. They pride themselves on providing close personal attention to every client. So how do businesses who work with clients every day ensure they are still able to efficiently serve these clients while also keeping staff safe?
Firstly, Findlay instituted a rotating schedule with half of their staff coming into the office one day and the other half the next. For example, over a two week period one half of staff would work Monday, Wednesday, Friday and the following Tuesday and Thursday with the other half of staff filling in the opposite days. When working away from the office, each staff member has remote access to their work PC using a program called LogMeIn. Prior to the outbreak, only lawyers and case managers had accounts on this program but Findlay quickly expanded access to all staff members by mid-March of this year.
One benefit of traditional office spaces is that many are large enough to safely have staff on site while still following all health and safety recommendations. Findlay's space allows them ample room to abide by all health requirements and suggestions implemented by local, provincial and federal health units. By this point in 2020, we are all well acquainted with the need for PPE supplies and professional offices are no exception. Findlay's office is fully equipped with PPE (face masks, hand sanitizer, disinfectant sprays and wipes, etc.). As an added protection, they have also ordered and installed a plastic barrier at the reception desk for an extra level of precaution when interacting with clients, couriers, or postal workers. When in person meetings are required, they are grateful to have use of a boardroom that is large enough to adhere to social distancing guidelines and facemasks are worn throughout. Upon completion of any meetings, all surfaces are sprayed and wiped with disinfectants.
As far as law practices themselves, a number of procedures in the litigation process, such as examinations for discovery and mediations, are able to move forward by utilizing Zoom from the Findlay boardroom. Another aspect of the pandemic that all businesses have had to reconsider is how payments are made or funds transferred. Findlay has taken full advantage of online banking to cover each area of their operations including payroll, payments, and electronic transfers of funds. They even have a cheque scanning machine in office, exactly like the ones a teller at the bank would use, to deposit cheques directly into the required accounts.
While the initial shock of COVID-19 regulations required some immediate reimagining of office practices, it also served as a catalyst for some businesses like Findlay to make further use of pre-existing infrastructure. This has allowed their offices as well as others to maintain the ability to still utilize their physical space effectively.  As Eric Findlay notes, "Our office was fortunate to have a number of systems already in place so the transition was probably more seamless than other businesses. We're happy to be back up and running down in Hamilton's core."
The offices that make up downtown Hamilton are an important part of our downtown community. Not only do they help by continuing to serve their clients, but they bring vitality to downtown and we look forward to welcoming more employees back as they return to the core.
If you are a Downtown Hamilton BIA member business and would like to share your experiences during COVID-19 please email Suzi Ozer at suzi@downtownhamilton.org.